Fuel duty changes in April will impact the compressed air market
29 March, 2022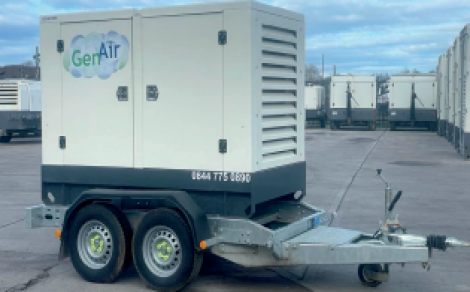 By Paul Starling, sales director, GenAir.
From April this year, fuel duty changes effectively put an end to red diesel use. The stated intention of these changes are to reduce industry's reliance on fossil fuels and reduce carbon emissions. The headline affect is that each litre of diesel will cost an extra 46.81 pence in duty.
These changes, although announced in 2020, have not been well-publicised and we're beginning to receive calls from clients asking for advice about alternatives.
'Glaring omission'
As things stand, HVO fuel, a diesel alternative with up to 90% less carbon emissions, is also subject to the duty changes. This, in our view, is a glaring omission by the government as a switch to these fuels (which all GenAir diesel compressors are compatible with) would achieve the carbon emission goals of the government with minimum disruption to industry. There is a lobbying effort in progress arguing for this but, so far at least, there is no sign that a lower duty will be applied to HVO.
Ready to go The only other ready-to-go alternative is to move to electric drive compressors. Even before duty changes are applied savings can be made on running costs by using electric and, by April, they will be dramatic. In our hire fleet, we already have our hybrid drive 830CFM oil free machine, 400cfm and 120CFM electric drive compressors with the 400cfm and 120cfm machines available in road-towable configurations. The challenge with electric drive is the availability of a suitable power supply. On city centre sites this is less of an issue but in other locations more planning may be required. One solution is the use of a single large generator to provide site wide power and, where possible, replacing diesel plant with electric. The availability of hydrogen powered generators can also further reduce costs with this option.
Unavoidable hit
In some cases, the only piece of plant on site will be the compressor, geotechnical drilling for example. In these circumstances the duty change is causing an unavoidable hit to operators because the only option is to use a diesel drive compressor so choosing an efficient, well-maintained machine is vital.
https://www.linkedin.com/company/genair-uk-ltd/
---