COMPACT SOLUTION TO HIGHER AIR DEMAND
22 February, 2023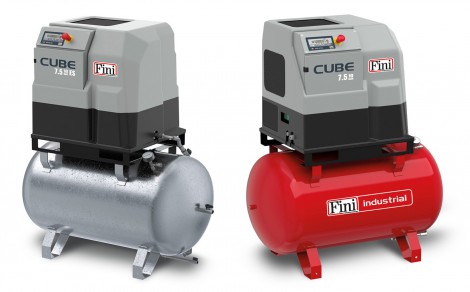 FPS AIR COMPRESSORS has announced it is releasing the range of Fini direct-drive compressors into the UK. Comprising MiniCUBE and CUBE models, the former is said to be the most compact solution in its market segment and comes as a single-phase solution if preferred in the 2.2kW model. Where higher air requirements are necessary, the CUBE is available in models up to 7.5 kW, providing a direct replacement for a piston compressor while producing 30-35% more output.
Small in size, but big in benefits, the MiniCUBE delivers compressed air for pneumatic devices that include air tools, spray paint guns, production machinery and packaging systems. The 1:1 direct drive means no belts, gears, pulleys or couplings, avoiding tension or misalignment issues. The upshot is reduced maintenance and noise emissions, alongside high levels of energy efficiency and safety.
For higher air demands, the larger capacity CUBE range comes in models up to 7.5 kW and just like the MiniCUBE, the oil-injected rotary screw CUBE compressor, is quiet, compact, energy-efficient and reliable. Again offering the benefits of direct-drive transmission, it houses all the same features, alongside an ETMII controller with backlit multi-function display. Notable control features include four maintenance timers (air filter, oil, oil filter and separator filter), programmable cooling fan temperature and programmable remote control starting.
Click here for the full release
t: 01865 892 620
e: sales@fps-compressors.co.uk
w: www.fps-compressors.co.uk/energy-saving-air-compressors
---