National Fluid Power Centre Gains Approval to Deliver New BFPA Course
24 March, 2022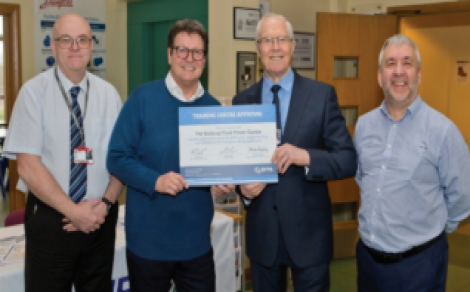 Photo: (L to R) Adrian Hudson (NFPC), Paul Cooke (Interim BFPA CEO), John Savage (NFPC), John Farmer (BFPA President, Flowtech Fluidpower plc)
The National Fluid Power Centre (NFPC) is the first BFPA Approved Training Centre to be accredited to deliver the BFPA's new training course: BFPA Level 1 Applied Electrical and Electronic Control Competence Based Qualification (E1).
This new qualification follows on from the MER in Electronic Controls (which is a three-day introductory training course). It builds on the basics learned in the MER, assessing the competency of the candidate alongside a written examination. Candidates will receive a BFPA certificate on completion of the course.
These electrical courses aim to give those working in either hydraulics or pneumatics an understanding of the electronic systems that control most modern fluid power systems.
Paul Cooke, Interim BFPA CEO presented the new Training Centre Approval certificate to John Savage, Director of the NFPC on 15th February – twenty years after the official opening of the NFPC. Also present were Adrian Hudson of the NFPC and John Farmer, President of the BFPA.
Paul Cooke commented: "I am delighted to be able to congratulate John Savage and the NFPC team on another significant achievement for the National Fluid Power Centre, in its 20th anniversary year."
The new course will be delivered by the NFPC - please visit the NFPA website www.nfpc.co.uk for more details or call 01909 504539
---