IMI Thompson valves shoot into space
24 March, 2022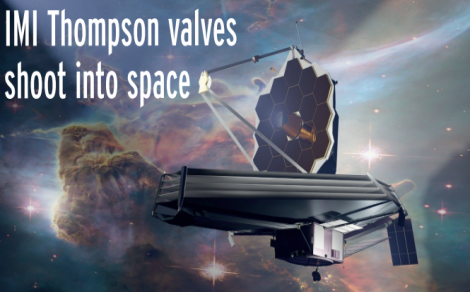 IMI Thompson Valves, a division of IMI Critical Engineering, has supplied valves for the Ariane 5 that launched the James Webb Space Telescope into space on Christmas Day 2021. It is claimed to be the most powerful telescope that has ever been built and will allow astronomers to study the beginning of the universe shortly after the Big Bang.
20 years in the making
The project to launch the telescope has taken more than 20 years, involving more than 10,000 people from 14 countries all over the world. The telescope was launched on the Ariane 5 rocket from Guiana Space Centre in French Guiana. It will travel for 29 days until it is placed into orbit 1.5 million kilometres away from earth.
It is hoped that the telescope will provide a clear picture of the first stars and reveal the atmospheres of exoplanets. It is intended to be the successor to the Hubble Space Telescope and is 100 times more powerful. The telescope takes its name from James Webb, a former NASA administrator.
Valves fit for space
IMI Thompson Valves supplied valves for the engine of the Ariane 5 rocket. The valves needed to meet the most stringent of quality checks before being accepted.
The launch was successful due to the huge collective effort of NASA, the Centre for Space Studies (CNES) in France, Arianespace and ArianeGroup. IMI Thomson Valves supplied the parts to ArianeGroup directly.
Supporting space research
Kevin Perry, commercial director – Energy EMEA, IMI CCI, says: "We are so proud to have worked with the ArianeGroup and NASA to make the James Webb Telescope launch possible. IMI have a long history of producing valves designed for the most challenging environments, and this was no different! We can't wait to see what sights the telescope will uncover once fully deployed."
https://www.linkedin.com/company/imi-critical-engineering/
---