A varied cross-section of Hydroscand personnel benefit from BFPA training
16 February, 2022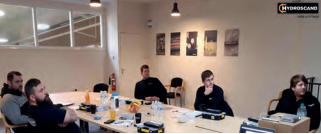 Last November, Hydroscand's teams attended two separate two-day BFPA Hose Assembly Skills Training Courses at Hydroscand's head office in Nottingham. A varied cross section of team members from Hydroscand took the course, from sales managers to mobile hose technicians and branch technicians.
Rob Roseveare, a Hydroscand mobile hose technician based at the company's Bodmin branch, says of the course: "The BFPA Course was excellently delivered by Stephen Dilks as always. He is happy to answer any questions and gives good suggestions to alternative methods to achieve better results. After 10 years of working within the hydraulic hose industry, this course keeps everyone up to date with all the latest industry standards, and new practices to keep us as engineers informed and safe and keeping customer downtime to minimum.
Roseveare adds that the course content is very in-depth when looking at the Thread Form chapter. "You come away with a better understanding, of how to identify the different types of hose inserts and adaptors Hydroscand keeps as standard in stock," he comments.
John Vincent, who recently joined Hydroscand as mobile technician at the company's Birmingham branch adds: "I attended the BFPA course and found it very interesting. It was a real eye opener to the dangers when dealing with hydraulics and making it a safer environment. I also learned about the hoses, fittings, measurements and thread types…very useful course and I enjoyed it."
Well-delivered and presented
Hydroscand sales manager, Kelvin Curnow, adds: "As usual, a well-delivered and presented informative course, with plenty of opportunities to ask questions and discuss topics within the syllabus. I was pleased with the pace and coursework material provided, which proves a valuable ongoing reference. No matter what level of hydraulics experience you possess, you can be sure you'll either take away something new or will at least get refreshed. Always a pleasure to attend these BFPA courses professionally run by Stephen Dilks."
Jed Saxby, a mobile hose technician based at Hydroscand's Nottingham branch, says: "The course was very interesting and gave a good in-depth, insight into making hydraulic hoses." Conor Borrett, a branch technician also at the Nottingham branch, adds: "The course was very informative and helpful in giving the basics on hydraulic hoses. It was nice to meet colleagues from different branches."
Hydroscand comments that by continuing to train its teams to industry standards and maintaining its commitment to both the company's quality management system and the BFPA-Approved Assemblies Scheme, it can offer excellent customer service and confidence to customers.
https://www.linkedin.com/company/hydroscand-uk/
---