VHS Hydraulic Components becomes new Bosch Rexroth Certified Excellence Partner
11 November, 2021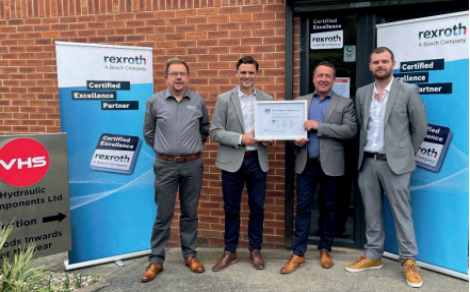 VHS Hydraulic Components Ltd, producer power packs, hydraulic cylinders and supplier of a wide range of hydraulic components, has become a new Bosch Rexroth Certified Excellence Partner.
The Bosch Rexroth Certified Excellence is an international Partner Management Program for the Sales Partners of Bosch Rexroth. The Certified Excellence Program is a global sales partner qualification program to offer high quality services and values to Rexroth customers. VHS Hydraulic Components successfully completed all stages of the certification process and will now specialise as a Mobile Hydraulics Solution Partner for Bosch Rexroth in the UK.
Fruitful collaboration
Rob Turner, managing director of VHS Hydraulic Components, comments: "VHS has grown in size over the past few years in the marketplace, and this is mainly down to the collaboration with Bosch Rexroth. Gaining the Certified Excellence certificate has concreted our relationship with the brand and makes us even more focused to maintain the results Bosch Rexroth require to gain this accolade. This is a very proud moment in our working history."
Andrew Minturn, partner manager of Bosch Rexroth Ltd, says: "VHS and Bosch Rexroth Ltd have grown together over the last few years culminating with the new Partner Certification that VHS has now achieved. This shows both our businesses intent to collaborate further and drive sales to the successful heights we know we are capable of. Over the next few years, we look forward to working closely with VHS to cement an already excellent working relationship."
VHS Hydraulic Components supply hydraulic components and solutions to companies in the agriculture, construction, engineering, farming, materials handling, marine, plastics, recycling and steel industry. The company also designs and manufactures hydraulic power packs and cylinders at its factory in Sheffield.
https://twitter.com/vhshydraulics
https://www.facebook.com/vhshydraulics/
---