360 degree process indicator sensor
07 October, 2021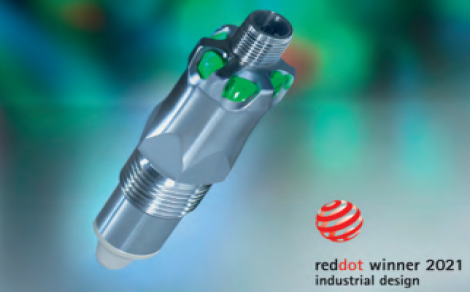 Achieving simple and effective confirmation of process transparency would be high on most system operators' wish list. For example, what medium is currently in the tank? Is the process proceeding as planned? Or are the values outside of the tolerance limits? The new KingCrown process indicator from sensor and instrumentation specialist Baumer presents this critical information to operators easily and conveniently at a single glance.
This has been acknowledged with the KingCrown process indicator winning this year's Red Dot Award for outstanding industrial product design. Red Dot Awards are well-established in appraising the best products created each year in terms of overall design concept, aesthetics, functionality and communication.
In process level measurement applications, five defined colours indicate whether the level has been reached, what medium is in the tank, or if there is a malfunction. Due to the ingenuity of the 360deg LED's, this information is visible from all locations even in daylight or in challenging production environments, without a blind spot. This feature, along with a robust, minimalist design, combined with Baumer's proTect+ impermeability concept, were the key factors in achieving the award.
In production environments involving high humidity, temperature changes, or water spray, sensors require optimum impermeability and robustness which is why Baumer sensors are designed in accordance with their proText+ concept. This concept is based upon a series of tests which first simulates the effects of aging before the sensors are subjected to the impermeability test according to the IP protection directives.
The robust stainless steel housing with the LED crown protects the sensors electronics from environmental influences and provides exceptional resistance to impacts or fracturing during installation or during operation in-situ thereby minimising the risks of downtime and failures.
https://www.linkedin.com/company/baumer-group/
https://www.facebook.com/BaumerGroup
---