The importance of omnichannel – Part 1
27 September, 2021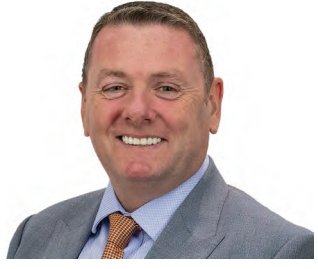 Ian Simpson: "Companies that don't embrace the digital advancements that are available to boost sales and cater for changing customer sales channels are going to be left behind or, in the worse-case scenario, go out of business."
By Ian Simpson, divisional managing director, Flowtech Fluidpower plc.
Many companies within the fluid power industry and related technology sectors in the UK have been slow in adopting an effective methodology with regard to internet sales, even though customer orders and expectations are increasingly moving in this direction. The trade counter may still be alive and well, but it now resides as only one component within the omnichannel realm. Indeed, the importance of the omnichannel trend was one of the highlights in a McKinsey & Company report of April 2019 on the industrial distribution market titled 'The coming shakeout in industrial distribution and five keys to outperformance in the years ahead'.
The report states that powerful trends that have disrupted industries around the world are now affecting industrial distributors. It adds that a few distributors are moving quickly to create more value by building scale, making dramatic advances in commercial and operational excellence, and digitising to create the seamless, omnichannel experiences customers now demand. However, the report expects slower-moving distributors to struggle – and some to "go the way of Blockbuster and Borders".
Convenience
The report makes the point that professional buyers who shop on Amazon now expect digitally enabled services such as customised reporting, multichannel ordering, and full visibility into distributors' inventory. Among customers who responded to the survey that served as the foundation for the report, 57% said omnichannel convenience was one of the top three improvements distributors should provide.
Features customers want include 24/7 customer service, a complete e-commerce website, order tracking, and real-time inventory management. They expect to make 30% more of their purchases from distributors via online means; those in the electrical segment expect a 50% increase.
Although the report was based more on trends within the US market, there are of course parallels for how companies trade in the UK and Europe. In this context, the report has been quite an eye opener as to how many leading companies see industrial distribution developing over the next few years.
Looking at how many companies within the industrial reseller and distribution space in the UK are adopting an online approach, I realised that, in general, we are way behind where we should be in terms of harnessing the potential of e-commerce. And, by e-commerce I am really referring to much more than simply an online sales platform, more a platform that can provide the type of detailed product information and guaranteed quick delivery time that we are used to through mainly consumer channels such as Amazon.
Stealing a march
It is important to qualify this by pointing out that there are a few companies within the fluid power sector that are fully onboard with this type of fully fledged B2B e-commerce model and are understandably stealing a march on their competitors as a consequence. Companies with the right technical capabilities, understanding of market trends and the right tools to monitor customer sales trends are and will continue to be those that dominate our market.
With a more fully rounded understanding of the growing e-commerce trend, Flowtech Fluidpower plc set up a dedicated e-commerce division. This division has a clear directive to look at how we were going to move forwards as a company within this new emerging market. Some 70% of our orders to our distribution channel partners are now online. It is worth pointing out that our sales and marketing activities are focused on this segment and the resale route to market is key to our success. The blending of our e-commerce and more traditional sales methodologies is driving our business forward and has reinforced our view that implementing an e-commerce strategy is vital – both now and in the future. Companies that don't embrace the digital advancements that are available to boost sales and cater for changing customer sales channels are going to be left behind or, in the worse-case scenario, go out of business.
Actions
In part 2 of this look at the omnichannel trend through the lens of our own industry – scheduled for publication in our November/December 2021 edition, we will put forward what we consider to be some of the most effective transformative actions that can lead to an efficient, popular and profitable omnichannel offering – one that can help to futureproof your company in the age of digital transformation.
https://www.linkedin.com/company/flowtech-fluidpower-plc/
---