New push-in fittings for cooling systems
06 August, 2021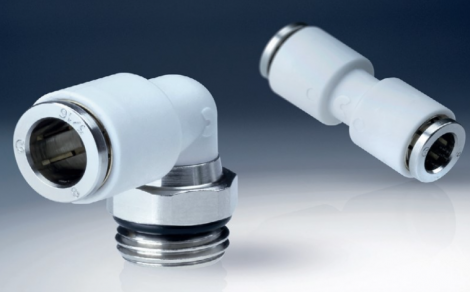 Camozzi Automation has employed its extensive push-in fittings knowhow to develop a new range engineered specifically to enable the smooth passage of fluids in cooling systems.
The Series 7000 Fluidics range has been designed with a special Bio-sourced PA11 Technopolymer reinforced with 20% glass fibre and based on renewable raw materials that allows the component to resist water absorption, temperature variations and cooling liquid additives. The material maintains constant dimensional stability in contact with different fluids, giving it excellent corrosion resistance over a long lifecycle, whilst High Phosphorus Nickel Plating gives additional protection in corrosive acidic environments.
Liquid cooling systems are generally considered to be superior to air cooling systems in terms of their energy efficiency, effectiveness, compact dimensions and noise reduction, and serve a wide range of applications from computer servers to industrial equipment.
Easy connection and disconnection
The push-in assembly of this new range facilitates easy connection and disconnection of tubes in demanding and confined industrial equipment environments, thereby reducing set-up and maintenance times. Laser systems, circuits for plastic injection and welding equipment all require accurate thermal control of the working tool and/ or workpieces and these new fittings have been designed specifically to achieve this.
In computer and electronics cooling environments the Series 7000 Fluidics range offers protection against overheating, which is invaluable in applications including data centre racks, aluminium cold plates, servers, and power supplies for electronic systems such as power packs, battery racks and fuel cells.
Due to its proven collet technology, Series 7000 Fluidics offers a reliable alternative to traditional technologies such as crimped, push-on, universal or compression connections. Advanced gripping characteristics give a uniform tightening on the whole surface of the tube, which in turn enhances reliability and endurance against repeated connection and disconnection.
https://www.linkedin.com/company/camozzi-group/
https://www.facebook.com/Camozzi-711722152534731/
---