Safety of railway vehicles
25 June, 2021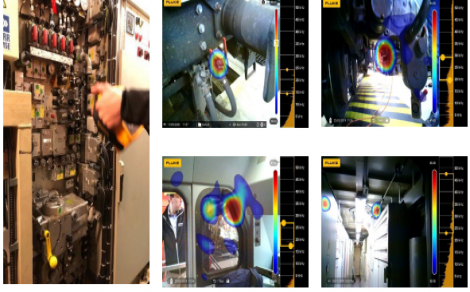 In the maintenance of railway vehicles, manufacturers and service centres set high quality standards, which must be carefully tested and documented. Today's modern vehicles almost resemble a small 'industrial plant' that ranges from supply to measurement and control technology.
The fulfilment of these criteria, with the aim of efficient and cost-effective implementation, represents a challenge for technically advanced machines with extensive control technology; both during inspection and maintenance, as well as in troubleshooting during repair. The components are so diverse and versatile that they cannot be checked with a single measuring device. Several different measuring instruments are required to ensure quality and safety.
Fluke ii900 Sonic Industrial Imager enables maintenance managers and engineers to quickly and easily locate leaks in the pneumatic system. The sound source (leakage point) is precisely located using a 64 ultrasonic sensor matrix and displayed in a digital camera as an overlay. A short tour around and through the vehicle is enough to get a good 'picture' of the situation. The leak is documented by a simple push of a button.
• Brake system A defect in the pneumatic system of the locomotive or wagons´ brake system can lead to costly damage and compromised safety. It must therefore be avoided.
• Air scaffolding Main distributor of the compressed air with various control, regulating and check valves, throttles and connecting lines. Due to the strong vibrations, leakages can also occur here, which can compromise numerous functions.
• Sanding system is used in rail vehicles to improve friction between wheel and track. The sand is contained in a sandbox and, when necessary, is conveyed by compressed air between the wheels and the track. This system is pneumatically controlled, and its function may be compromised in the event of a leak.
• Air conditioning system is an essential system component in all locomotives and passenger cars. This system, in particular the climate valves, is pneumatically controlled. It must be ensured that the air flow when entering and exiting a tunnel is controlled in accordance with the regulations.
• Cabs and passenger compartments of modern locomotives and trains are press-tight. When entering and exiting tunnels or when two trains encounter at high speed, strong air mass forces act, which jam in front of the moving train. The pressure tightness of the cabin protects the train passengers from serious injuries. The ii900 makes it very easy to control the pressure tightness. By 'lighting' the possible leaks, such as entrances, windows, air conditioning or bulkheads.
• Pantographs are pneumatically controlled and monitored. The detection and repair of leaks increases the stability of the system and reduces failure rate during operation. It can also be used in quality control after a repair action is performed.
---
AIR-TECH EXHIBITION


16 April, 2024, 9:30 - 18 April, 2024, 4:00




Hall 9, the NEC, Birmingham, UK

FLUID POWER & SYSTEMS EXHIBITION


16 April, 2024, 9:30 - 18 April, 2024, 4:00




Hall 9, the NEC, Birmingham, UK