Food grade compressed air safety
06 December, 2019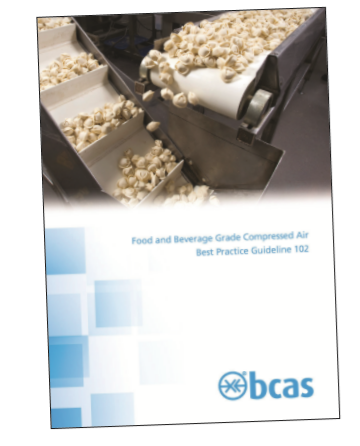 The British Compressed Air Society has produced best practice guidance (BPG102) for food and beverage processors on the safe and efficient use of compressed air. Vanda Jones, BCAS executive director, provides an overview of the guide, prepared in conjunction with the British Retail Consortium Trading Limited (BRC) and looks at how it can help processors used compressed air safely and efficiently.
Outline of the guide
This guideline expands on the provisions for the supply of compressed air in food/beverage manufacturing as identified in the BRC Global standard for food safety, ISO 22000 and ISO TS 22002-1. It also identifies the air purity requirements for compressed air for both direct and indirect product contact. Installation practices are provided as guidance for both new and existing installations alongside suggested measurement and testing procedures. Finally, maintenance activities are detailed to help retain continued performance of the compressed air system.
Pre-requisite programme
As compressed air is seen as a utility then its provision is normally included in the pre-requisite programme (PRP) rather than directly as part of the hazard analysis and critical control point (HACCP) activity. A PRP addresses basic operational conditions, such as good hygiene practices, and is considered essential in establishing a sound foundation prior to the application of HACCP or other food safety management systems. These principles are designed to ensure the quality of the final product by identifying potential contamination entry points or zones, known as Critical Control Points (CCPs) and implementing rectification and monitoring procedures. As a result, operators that are reviewing their compressed air strategy should first identify the areas where compressed air is involved in the production process, then assess which contaminants may adversely affect the food or beverage and establish whether compressed air comes in to direct or in-direct contact. Once these areas are established, operators can then assess the levels of air purity required and the periodic testing, service and maintenance regimes necessary to maintain this air purity. These measures should then be recorded as part of the HACCP process and, if deemed to be within the scope of a critical control point, reviewed to ensure that all measures in place are adequate.
Compressed air purity
Many applications either require complete sterility or at least a level of control over the presence of microorganisms. If compressed air containing micro-organisms is allowed to contact production equipment, ingredients, packaging materials, partially completed or finished products, then sterility can be lost. The guideline identifies acceptable air purity levels in line with the ISO 8573-1:2010 class designation, taking into account whether the air comes in to direct or indirect contact with the food or beverage. This also assesses the levels of solid particles (dirt), humidity, total oil and microbiological contaminants present in the air.
Competencies
A key area that should not be overlooked is the competency of the personnel involved. This not only applies to the companies responsible for the supply, service and maintenance of compressed air equipment and ongoing air purity testing, but also staff employed at the facility who are involved in any activity related to the maintenance of the compressed air system as well as any personnel involved in auditing activities.
Maintenance
Finally, operators should ensure that the complete compressed air system is maintained appropriately, by qualified personnel using industry best practices. This should extend to the use of genuine replacement parts in order to maintain the original system performance.
The guide is available for free download from the BCAS website at https://www.bcas.org.uk/article/bcasfood-grade-compressed-air-best-practice-guideline-5.aspx
---