Hydraulic combination valve for complete motor control
07 September, 2018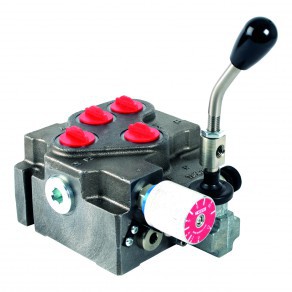 Webtec, the specialist manufacturer of hydraulic measurement and control products, is unveiling its new CV120 series combination valve that provides a complete solution to hydraulic motor control for mobile machinery.
Hydraulic system designers will discover that the compact CV120 reduces both space and pressure drop in machinery used for mining, quarrying, construction and agricultural applications, without compromising performance. In addition, costs can be reduced thanks to the lower number of hoses and fittings required.
This innovative hydraulic valve sees a variable priority flow divider combined with a directional control valve in one body. Among the many stand-out features of the CV120 is a clearly marked single-turn hand dial that permits fast visual adjustments to the pre-determined 'Priority' flow. In addition, the new hydraulic valve is pressure compensated, permitting both 'Priority' and 'By-Pass' to be used simultaneously at varying pressures without affecting the 'Priority' flow rate.
Good flow-to-pressure characteristics
CV120 flow control valves utilise the design and components from Webtec's established VFD120 series. This proven concept results in good flow-to-pressure characteristics, which in turn achieve consistent flow independent of load pressure. The directional control element uses a hardened alloy steel spool that can be supplied in double-acting or motor types, with three-position spring-centred or detent control. Also featured is a full flow pilot operated relief valve which protects the A and B regulated ports.
The Webtec CV120 has two pump inlets and two tank outlets that allow the plumbing to be connected from either the side or top of the valve, thus simplifying installation. Multiple valves can be used in series by using a high-pressure carry-over (HPCO) coupling and standard fittings. If a HPCO coupling is installed for the use of downstream valves, a second pressure relief valve is required to control the pressure exiting the HPCO. In such instances, the two relief valves work independently of each other.
CV120 valves offer a maximum operating pressure of 250 bar (3600 psi) and a total flow capacity of 120 lpm (32 USgpm), while regulated flow capacity is 0-95 lpm (0-25 USgpm). Porting choice is either 3/4" BSPP or 1-1/16" -12UN #12 SAE ORB thread sizes, although other thread sizes can be made available for special orders.
---