Working safely with compressed air
07 May, 2021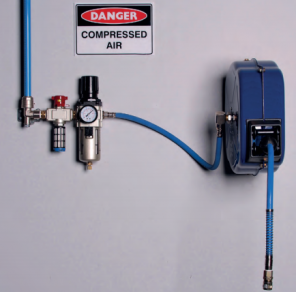 Companies that are looking for a quick and simple way to train their employees in the safe use of compressed air can now benefit from the British Compressed Air Society's (BCAS) working safely with compressed air training course – with a 25% discount for customers of BCAS members (excluding trade customers).
Compressed air is a safe and reliable form of power, accounting for approximately 10 per cent of all the energy used by industry. However, it is important that both employers and their employees know how to work safely and understand the risks involved if good practice is not followed.
The one-hour, online workshop helps to fulfil employers' health and safety obligations and provides evidence that each participant has understood safe working practices and their responsibilities.
Straightforward and easy to follow, the course covers the hazards of compressed air as an energy source, the use of personal protective equipment, employer and employee responsibilities with respect to health and safety when using compressed air and a list of safe working practices to be followed.
Vanda Jones, BCAS executive director, comments: "BCAS is recognised within the industry as a provider of training and development for engineers, technical professionals and users of compressed air. Working with our members we develop training based on industry standards and best practice. These include specialist courses that are tailored to the needs of industry professionals, end users and suppliers; that combine the safe working and understanding of compressed air with its multiple uses.
"Now, more than ever, this training must be delivered to suit the needs of a dynamic and changing workforce. It's why we have invested in our new elearning portal, allowing delegates to learn at a pace, and from a location, that suits – and the one-hour, Certificate in Working Safely with Compressed Air is a great place to start."
To find out more about the Certificate in Working Safely with Compressed Air course from BCAS, visit www.rebrand.ly/BCASWSWCA
For further information about the additional 25% discount, contact your local BCAS member, email training@bcas.org.uk or call 0207 935 2464
---
AIR-TECH EXHIBITION


16 April, 2024, 9:30 - 18 April, 2024, 4:00




Hall 9, the NEC, Birmingham, UK

FLUID POWER & SYSTEMS EXHIBITION


16 April, 2024, 9:30 - 18 April, 2024, 4:00




Hall 9, the NEC, Birmingham, UK