Oilgear partners with Zeus Hydratech
02 March, 2021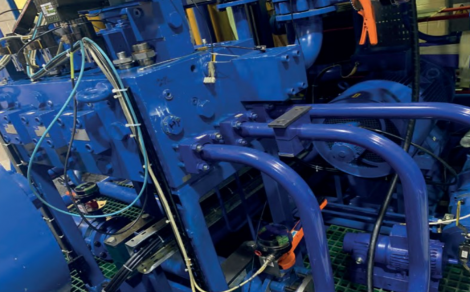 Oilgear UK has appointed Zeus Hydratech as its official distribution partner covering the South of the UK. Oilgear comments that, with a strong focus on customer service, a keen eye for detail and the desire to promote high-quality hydraulic components, Zeus Hydratech was the natural fit for Oilgear.
Chris Howie, Oilgear vice president, says: "With a century of experience behind us, it is no exaggeration to say that Oilgear makes historically good pumps, valves and engineered solutions, and are renowned for our problem-solving capabilities. As Oilgear looks to expand our product lines within UK and global markets, we could not have found a better partner than Zeus Hydratech to represent Oilgear who have similar core values and a dedication to serve and satisfy their customers' requirements by delivering the highest quality experience to them, making it easy for our customers to do business with us."
Confidence
Howie continues: "One of the things that Oilgear is recognised for today is its extensive product range, which is geared towards high pressures that go beyond those that standard manufacturers within the hydraulic industry are used to working with, with an unmatched level of understanding and knowhow when it comes to the solutions we supply. That gives our customers a huge amount of confidence that in Oilgear and Zeus they have a partner that will be able to answer their specific needs. On 15 January 2021, Oilgear celebrated its 100 Year Anniversary and are excited this monumental landmark was shared with a quality partner such as Zeus."
In control
Oliver Starr, Zeus Hydratech's managing director, comments: "Oilgear are renowned for high quality, reliability and high performance, and to that end their products were the perfect for our existing product range. Chris Howie (Oilgear vice president), James Shaw (Oilgear business development) and Stephen Raper (Oilgear sales and marketing) attended a meeting with our sales team and me at the Zeus office in Bristol. I recall the reaction on Chris's face the first time he sat in our main office area, as he sat and took in the environment – a smile crossed his face and he commented on how everything felt organised, well-structured and in control. Chris just found his zen at Zeus Hydratech. The team at Zeus have worked incredibly hard to create a business with a reputation for exceptional customer service, technical capability and well-structured procedures. We are extremely proud to be representing the Oilgear brand and look forward to working on many more exciting and technically challenging projects in the future."
Zeus Hydratech supports a broad range of sectors, including offshore, marine, civil bridge construction, large scale industrial processes and aerospace.
https://www.linkedin.com/company/the-oilgear-company/
https://www.facebook.com/Oilgear-1705445919742480/
---