Penny Hydraulics launches new vehicle lift
18 December, 2020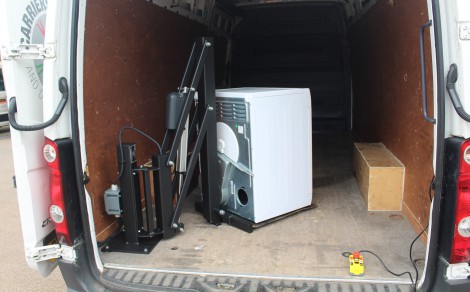 Penny Hydraulics, the UK manufacturer of lifting equipment, has launched a brand-new product after its clients reached out for help. The Lightweight LoadLift has been designed as a costeffective lifting solution for those who need to lift up to 100kg.
Weighing in at approximately 47kg, the lift provides van users with a compact lifting solution that doesn't use up the payload or footprint of the vehicle. Making it the perfect option for deliveries of white goods, tote boxes, tool chests and components. And enabling drivers to move bulky items on and off their vehicle easily, safely, and efficiently.
Developed based on customer need
Like many products in the Penny Hydraulics range, the Lightweight LoadLift was developed based on customer need. Designed to reduce the risk of manual handling related injuries and increase the efficiency of workforces.
It joins the rest of the company's vehicle-mounted lifting equipment, comprising SwingLift cranes, hydraulic PH cranes, hydraulic loading platforms and winches. They are all manufactured in the UK with an average 4-week lead time and come with a 12-month parts and labour warranty as standard.
Unleashing potential
Dan Casey, marketing manager, comments: "The Lightweight LoadLift will help businesses to unleash the potential of their vehicle and workforce, plus increase productivity and job capability. One in every three accidents at work are caused by manual handling. The Lightweight LoadLift helps prevent these manual handling injuries that can cost businesses upwards of £8000, plus improve health and safety procedures all round.
We're very proud to launch the new lift and look forward to seeing how it will be received in the industry."
https://twitter.com/PennyHydraulics
https://www.linkedin.com/company/penny-hydraulics-ltd-/
---