Energy entrepreneurs launch multi-million-pound business investment fund
17 December, 2020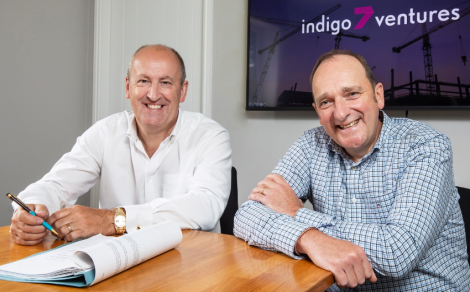 Two energy industry entrepreneurs have launched a family investment company which will support fledgling technology enterprises with development capital and decades of experience gained building international businesses.
Doug Duguid and Michael Buchan have formed Indigo 7 Ventures (I7V) which will have a focus on start-up businesses specialising in environmental sustainability and energy transition. The pair have created a multi-million-pound fund which will invest upwards of six figure sums in a small stable of innovative companies working in the renewables sector.
Doug Duguid was chief executive officer and Michael Buchan chief financial officer of EnerMech, which they founded in Aberdeen in 2008 and developed into a global engineering services company, and which was subsequently acquired in a multi-million pound deal by The Carlyle Group.
Previously, the pair led pipeline and well interventions specialist PSL Energy Services and grew it into a global business which was later acquired by Halliburton in a £128 million deal in 2007.
Based in Aberdeen, UK, I7V believes its extensive experience in sourcing finance, setting up businesses in different geographic locations, arranging international joint venture agreements and navigating tax and regulatory requirements, will differentiate this investment company from traditional funders. In tandem, I7V will also set up its own renewables services, inspection and repair business in the wind, solar and hydrogen space, with a strategy aimed at establishing an international presence.
I7V has already made a number of substantial investments in UK and South African-based businesses, which will be revealed in due course
Image caption: Indigo 7 Venture's Doug Duguid (left) with Michael Buchan
https://twitter.com/indigo7ventures https://www.linkedin.com/company/i7v/
---
AIR-TECH EXHIBITION


16 April, 2024, 9:30 - 18 April, 2024, 4:00




Hall 9, the NEC, Birmingham, UK

FLUID POWER & SYSTEMS EXHIBITION


16 April, 2024, 9:30 - 18 April, 2024, 4:00




Hall 9, the NEC, Birmingham, UK