Multi-million-pound design and manufacturing facility now completed for Slack & Parr
16 February, 2021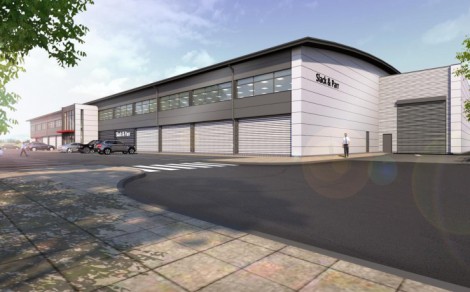 East Midlands-based Slack & Parr – the designer and manufacturer of high-quality precision engineering equipment – has now virtually completed its new state-of-the-art facility. Having been operating on the same site for over 100 years, the new facility sees an opportunity for the company not only to improve the efficiencies of its production, but also become more environmentally conscious and enhance the welfare of employees. Slack & Parr is an example of quality British design, with its R&D and manufacturing centre at the company's headquarters in Kegworth, and four other facilities around the world.
Slack & Parr, which celebrated its centenary in 2017, is now in its third generation of family leadership, its current managing director Edward Barrington being the grandson of Tom Barrington who ran the firm back in 1946. Edward has very much been the driving force behind the new facility since the plan was first put into action 10 years ago. Having worked at the company for 25 years, Edward was very aware of the limitations the old buildings imposed when trying to modernise their production. According to Slack & Parr, the new factory will ensure efficiency throughout, offer improved facilities for the company's 165 employees and have a substantially reduced impact on the local area and wildlife.
Meticulous planning
This new manufacturing base was completed in October 2020 and will be fully operational early in 2021. Due to a meticulously planned move of all 130 machines, the company states that there will be a very limited loss of production time on existing orders and workflow. Edward and his management team have worked intensively to ensure a smooth transition for both their team and clients. All employees are reportedly looking forward to the planned move and are excited about the future for the company.
The new facility has been designed and built with a keen eye on the environment both throughout the construction process and in terms of its operations. As a factory building, its necessary functions put certain restrictions on the final design. However, being a modern construction, Slack & Parr now believes it has in place a solid foundation for being able to constantly improve production from an ecological point of view. The all-purpose structure is thermally sealed, with the heat and water produced bring recycled as much as possible. Slack & Parr has an award-winning apprentice programme in association with Derby and Chesterfield College, that takes school leavers on a four-year scheme, seeing them finish with qualifications in production engineering and digital manufacturing.
Proud history
"We started the short move over to the new facility in mid-October, moving each of the 31 separate manufacturing areas a department at a time," explains Edward Barrington. "By mid-December, we were very close to being 100% moved and out of the old site. Once fully operational, the difference in flow and speed of production will be phenomenal. We are very proud of the history of the company, but some of our old buildings have been in use for more than a hundred years and we were unable to make the improvements we wanted without building new. This is a serious, high-end manufacturing operation, and having the time to design our new facility from the beginning has meant we can really look at the workspace and make it as safe and comfortable as possible for our team."
Neil Anderton, Slack & Parr's hydraulic and industrial director, comments: "Seeing the new facility become a reality is really exciting, and we have spent so much time meticulously planning the transition from the old buildings. There are a number of new machines that come with the new building, but we have also taken the existing production lines and moving them all together under one roof. This allows us to be more efficient from the perspective of workflow, but also have better control of our energy consumption, materials usage and be able to recycle a lot of our waste, which is better for us and the world around us."
For more informattion:
https://www.linkedin.com/company/slack-&-parr-limited/
---