New generation of fluid filter elements from Industrial Filtration Group
02 December, 2020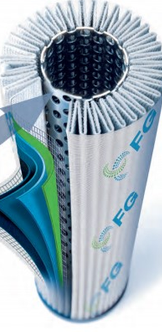 Industrial Filtration Group offers a new generation of fluid filter elements with PulseShield compression sleeves, bringing together several new developments. The compression sleeve secures the pleated star firmly to the inner core and guarantees uniform pleat separation throughout the entire service life of the filter element. This provides ideal filtration results, even through pressure pulsations, triggered by changing volume flows that may occur in the fluid system.
Industrial Filtration Group's Premium Select filter media has been supplied to customers worldwide for many years and, according to the company, offers superior performance.
Industrial Filtration Group claims that the PulseShield compression sleeve combined with up to three Premium Select fiberglass layers increases the dirt-holding capacity by as much as 30% in comparison to conventional filter elements. At the same time, the lower di?erential pressure results in a significantly reduced energy consumption.
www.industrial.filtrationgroup.com
https://twitter.com/filtrationgroup
https://www.linkedin.com/company/filtration-group/
---