Simple valve manifold change saves money, space and helps the environment
18 November, 2020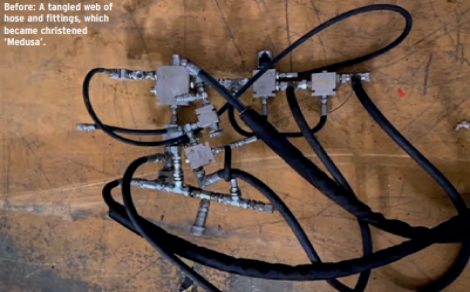 During a recent project for customer Wessex International Machinery, ISIS Fluid Control Ltd was looking to prove a couple of theories it had and so set about trialling several iterations of a hydraulic system before settling on a final design.
The temporary result was a tangled web of hose and fittings, which became christened 'Medusa' – "and the sight of thevaluable oil left over the floor each day was enough to turn anyone to stone," according to Jon Millard, UK sales manager at ISIS Fluid Control Ltd.
However, 'Medusa' was only temporary and was always going to be replaced by a manifold block. Nevertheless, Millard stresses that Medusa systems exist all over the world in permanentinstallations. "The knock-on effect of this is a likely headache for potentially every department in the company," he remarks.
With regard to a hydraulic circuit with just six or seven valves, each of these has a minimum of two ports, possibly three or four. "We can forget the maths and just say that's a lot of hoses, each with associated fittings," says Millard, who adds that in addition to the initial purchase cost of each hose and fitting, each fitting is a potential leak path. "Leaking oil can cost money to replenish, have numerous well-documented safety issues, decrease system efficiency, have a negative environmental impact and, let's be honest, it doesn't do your machine's paintwork any good either," says Millard. "In addition to all of this, the resulting collection of components is hardly pretty and not exactly the type of image you want in your next glossy brochure."
Reduced costs and leaks
ISIS Fluid Control Ltd therefore designed a custom manifold block for Wessex. In doing so, ISIS Fluid Control has drastically cut the number of hoses and fittings required, which in turn has reportedly reduced costs and eliminated most of the potential leaks. "Without a doubt, the new system has saved a lot of space, almost the holy grail in most mobile hydraulic applications," says Millard.
In terms of installation time and cost, rather than requiring hours of plumbing everything is now neatly situated in one unit. All that was needed was simply to connect the tank, pressure and service lines," explains Millard. "How's this for a transformation?"
Millard reflects that what sometimes steers people away from this option is simply the fact it is unknown territory for them. Experienced engineers or fitters can see exactly what's going on with individual valves and an array of hoses and are reticent about trusting all of this to an unseen network of chambers in an aluminium block," he says. "However, with modern design software such as Hydraforce's i-Design, a system can be designed and priced in minutes by product specialists at ISIS and schematic drawings can be produced and explained right at the outset of a project."
Millard concludes: "We've all heard it being said around the building during the many meetings we have. The financial director wants to save money, the H&S manager wants to reduce accidents, the technical manager wants to make the company's systems more efficient and take up less space, and people in general want to know how to help the environment.
We achieved all this for Wessex in one hit."
---
AIR-TECH EXHIBITION


16 April, 2024, 9:30 - 18 April, 2024, 4:00




Hall 9, the NEC, Birmingham, UK

FLUID POWER & SYSTEMS EXHIBITION


16 April, 2024, 9:30 - 18 April, 2024, 4:00




Hall 9, the NEC, Birmingham, UK