MecWash Duo bolsters Ultra Precision's £1.5 million upgrade plan
19 October, 2020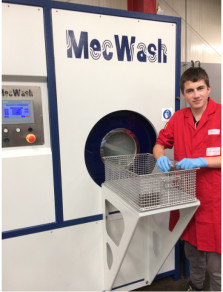 Ultra Precision Products Ltd, manufacturer of high-end precision machined components, has enhanced its quality offering by investing in a MecWash Systems Duo 400, as part of a £1.5 million series of upgrades.
Ultra Precision's main business activity is in precision engineering; CNC milling, turning, and machining. Based at a purpose-built factory in Haverhill, Suffolk, key operational sectors include aerospace, medical, oil and gas, subsea, nuclear, hydraulics and defence.
A 2019 investment programme increased engineering capacity and provided customers with parts finished to what is claimed to be a world-class level of cleanliness. As well as cleaning equipment, the investment also included the acquisition of new CNC machines.
Replacing the previous labour-intensive method of cleaning, the MecWash Duo 400 reportedly exceeds the requirements to clean machined stainless steel and aluminium precision components including rods used in medical applications, removing soils, oil, coolant, and swarf. It was essential for the machine to have the ability to clean and dry products to a highquality specification.
MecWash's Duo 400 has the benefit of flood/immersion washing, which provides the highest standards of cleaning by full solution contact with all component surfaces, and a recirculating heated spray rinse, which provides a superior surface finish by removing detergent residues left by the wash solution.
The rinse stage can also be used to apply a longer term corrosion inhibitor for ferrous components, all finished off with a hot air dry.
Reduced process time
Simon Quick, production manager at Ultra Precision Products Ltd, says: "Our new component washing facility from MecWash has proven to be a great success, hugely improving the quality of the parts we deliver in terms of cleanliness, whilst also reducing the process time to complete the cleaning operation. This in turn has helped with lead times and delivery.
"The machine is fully programmable for any cycle required, with a combination of flood wash, spray wash, rinse and dry. The water is filtered and skimmed automatically to keep the wash solution in the best condition possible and the dosage of cleaner is controlled and maintained automatically in cycle. As well as a full rotating wash, more fragile items can be run on a static wash where the baskets stay still. A variety of baskets, dividers and clamps allow us to hold all parts securely."
British built machine
Geoff Quick, managing director at Ultra Precision Products Ltd, speaks of Quick's decision to choose MecWash: "Being a British built machine was a factor in the purchase of the MecWash Duo. This coupled with the outstanding cleanliness provided by the Duo made it the top choice for Simon.
"MecWash's customers include aerospace, medical, pharmaceutical, defence and motorsport. We have an excellent reputation supplying precision parts into a wide range of these industries, many of which also have MecWash machines, so we are aware of the fantastic cleanliness levels achieved."
---