Hydrocam hydraulic bolt tensioners remove uncertainty from couplings
11 September, 2020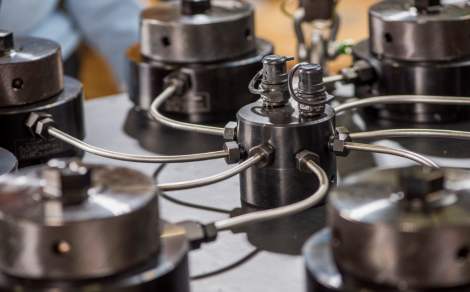 Hydrocam hydraulically operated bolt tensioners are designed to offer far greater accuracy compared with alternative fixing methods. The bolt tensioners can reportedly remove uncertainty over the performance and long-term reliability of couplings. They can also save time and reduce risks, offering a high level of control and safety.
According to Hydrocam manufacturer Pilgrim, part of the SKF Group, damage to bolts and associated structures is avoided, installation is faster, operation of equipment is optimized and maintenance needs are minimised.
Bolted assemblies are used throughout industry but can present significant challenges. For example, incorrect assembly accounts for around 45% of all fatigue failures, with common problems being insufficient preload, over- or undertightening and misalignment.
"Conventional methods for tightening bolts use torque, applied by hand or torque tools," explains Damian Lewis, general manager at Pilgrim. "These methods can damage threads and flange faces, leading to re-machining and added downtime. The bolts may also become loose over time and need re-tightening.
An alternative is heat induction, but this requires specialist contractors and additional cost."
Hydrocam can overcome these problems by axially stretching bolts and studs, using a pre-determined residual load to create a high integrity fixing, which can be mounted and dismounted quickly and safely without damage. Hydrocam can be supplied as a single tool or incorporated into a multitensioner for homogenous tightening; in most applications it is intended to be reused with multiple fittings but can also be permanently incorporated into the nut assembly.
Hydrocam is supplied ready for use with the tensioner unit, power pack and all relevant fittings. The power pack can be hydraulically, electrically or hand operated.
Lewis concludes, "Hydrocam ensures consistent, safe and precise bolt assembly and fastening. It's simple to use, eliminates the risk of errors and saves engineers throughout industry considerable time, effort, and cost.
---