BCAS and Primary Engineer announce 2019 winner of the Rogers Knight award
13 February, 2020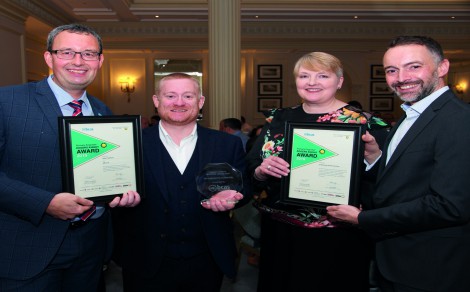 The British Compressed Air Society (BCAS) and Primary Engineer have announced this year's recipient of the BCAS Rogers Knight Award 2019 as Allan Crawford from ARC Ltd.
The award is presented each year at the annual BCAS charity ball to an engineering professional in recognition of the impact he or she has had working with pupils and teachers as part of the Primary Engineer programmes. The not-for-profit organisation aims to inspire the next generation of young engineers through whole class project work with teachers and engineers, competitions and exhibitions.
Open to all teachers across the UK to nominate their partner engineer, the Rogers Knight Award sees hundreds of entries each year, from which the BCAS Board selects just one winner.
Allan Crawford was nominated by Colette Kilpatrick from St. Nicholas Roman Catholic School in East Lothian, where he has been visiting the children for many years to talk about his work as a mechanical engineer and the huge variety of vocations available within this disciple.
Passing on the enthusiasm
Commenting on his award, Crawford said: "I was initially surprised as I didn't know the school had nominated me, but I am very honoured to have won the award. For me, it was a way to pass on my enthusiasm for engineering to a new generation. Not everyone will want to be an engineer, but I think it is important that anyone who might consider it can hear first-hand from someone who understands and enjoys the work."
Colette Kilpatrick added: "My school is delighted that 'our' engineer has been chosen to receive the BCAS Rogers Knight Award. Allan, for many years, has selflessly taken a couple of days out of his busy schedule to visit our school and talk to the children from P1 right up to P7 about engineering and future careers within engineering for the 'If you were an engineer, what would you do?' competition."
Jason Morgan, BCAS president, who presented Crawford with his award, concluded: "Industry continues to work hard to tackle the engineering skills gap and to widen the pool of young people who join the profession and here at BCAS, we work with our members to ensure that our industry can attract this new talent.
"The Primary Engineer programme plays such an important role in inspiring young people and we are thrilled to again acknowledge an outstanding engineer who has made a significant difference to school pupils' understanding of engineering. Allan was a worthy winner of the Rogers Knight Award this year from a selection of high calibre nominees.
"We are also delighted to announce our continued support for the Primary Engineer programme next year, helping to recognise the excellent work of the engineering community across the UK and encouraging the engineers of the future in to an exciting and rewarding career."
---