Watchlog – the Wireless Sensor Monitoring System from Hydrotechnik UK
08 October, 2019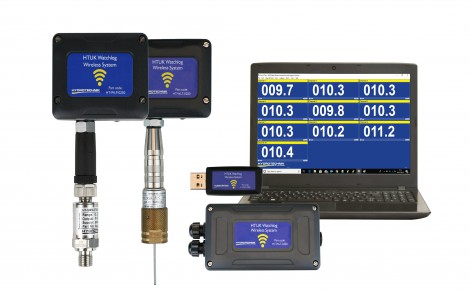 Hydrotechnik UK's HTUK Watchlog wireless system is designed for continuous monitoring and logging of up to 100 sensors where hardwired sensors are not feasible. Pressure, temperature, flow, level and force sensor options are available, all of which can be monitored over distances up to 1.6km.
How it works
Sensors and the relevant wireless transmitters are installed and fully calibrated to customers' requirements via a supplied setup toolkit. The transmitters are powered by two standard AA batteries, giving up to 2 years of life and a range of up to 800m.
The signal is received by a base station plugged into a PC via a USB connection. The base station decodes the signal and displays the value on the included Watchlog software. The user-friendly software can be customised to provide up to three alarms per sensor, as well as pre-set data logging functions and remote login via a webserver.
If distances exceed 800m or there are obstacles causing signal issues, an extender box can be implemented to increase distance by another 800m. This can be mains-powered or supplied with a solar powered battery pack.
HTUK Watchlog features at a glance
• Pressure sensor ranges from -1…0 to 0…5000 bar
• Temperature sensor range -50°C to +200°C
• Flow sensor ranges for water and oil up to 550 l/min
• Level sensor ranges up to 3 meters
• Force sensor ranges up to 200 tons
• Configure unique graphical displays from data
• Alarm functions (two latching/one warning)
• 4 data logging options
• Wake, sleep and interrogate sensors
• Webserver login
---