Hydrotechnik UK launches HTUK Watchlog
26 March, 2019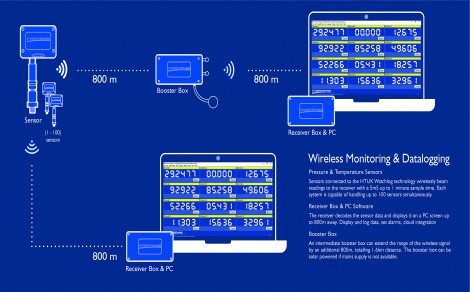 Hydrotechnik has launched a new Wireless Data Monitoring and Acquisition system, designed for continuous measurement and monitoring of critical machinery, processes and systems.
Rapid deployment, long transmission distances and stability of signals make this system easy to install and specify when wired options present problems.
The HTUK Watchlog wireless send and receive system is designed for continuous monitoring and logging of multiple pressure and temperature sensors over distances of 800m and/or 1.6Km.
Huge step
Hydrotechnik believes HTUK Watchlog represents a huge step in the provision of a secure point to point wireless transmission of sensor signals. The company's pressure transducers and/or temperature sensors fitted with HTUK Sender boxes are powered by two standard AA batteries giving up to 2 years of life, even when used continuously.
A wide range of pressure sensors are available from 0 - 60 Bar up to 0 - 600 Bar and -50degC - +200degC temperature probes (more sensor ranges are also available). Up to 100 sensors can sit on the same system.
Sensor signals are beamed to a single receiver box, plugged into a PC via a USB cable. Sensors and receivers can be up to 800m away. If longer distances are required, Hydrotechnik offers a repeater/booster box that can increase wireless transmission distances up to 1.6Km. Distances are suitable for industrial building/site applications.
The booster box can be solar powered to give continuous service if mains power is not available.
Each set up can handle up to 100 sensors per system. All sensors talk to a single wireless receiver and Watchlog software. Data is displayed numerically or graphically. Alarm levels can also be set for each channel individually, both a pre-warning and critical alarm. Alarms can also be set to start logging data numerically or graphically to record events.
The software can be used to wake and sleep each sensor or all sensors at the same time. All sensors are individually calibrated and set up via an easy to use software. The software sets up the sampling and transmission frequency to adjust the accuracy/stability of readings as well as optimising battery life.
Cloud integration will follow shortly which will give engineers alerts via text message and the ability to log in remotely to check on the status of their equipment.
Components of a system
1. Pressure & Temperature Sensors
Sensors connected to the HTUK Watchlog technology wirelessly beam readings to the receiver with a 5ms up to 1-minute sample time. Each system is capable of handling up to 100 sensors simultaneously.
2. Receiver Box & PC Software
The receiver decodes the sensor data and displays it on a PC screen up to 800m away. Display and log data, set alarms, cloud integration
3. Booster Box
An intermediate booster box can extend the range of the wireless signal by an additional 800m, totalling 1.6km distance. The booster box can be solar powered if mains supply is not available.
[subhead] HTUK Watchlog features at a glance
• Wide range of pressure sensors: 0-60, 0-250 and 0-600bar (more on request)
• Temperature Sensors: -50degC to +200degC
• Truly wireless sensing system with no need for any external power or cables
• View and log sensor data using user friendly Windows 'Watchlog' software
• Configure graphical backgrounds for unique display of sensor data
• Settable alarms (two levels)
• 100 sensors can run simultaneously
• Battery life up to 2 years
• Data logging can start on trigger events
• Wake, sleep and interrogate sensors
---