Atlas Copco welcomes Vital Power as an authorised distributor for its QIS Generator range
09 September, 2019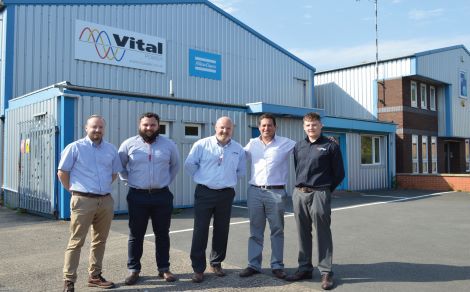 Atlas Copco has appointed Coventry-based Vital Power Limited as authorised distributors for its complete QIS family of diesel generators. This includes the five most recently added models, ranging from 875 to 1420 kVA.
These generators handle the most demanding conditions in both standby and stationary prime applications. They respond instantly to an electrical supply interruption and are claimed to deliver guaranteed performance exactly when required. Low noise levels allow their use even in residential areas, while their capacious expansion space facilitates modular flexibility and permits plentiful upgrade options.
Paul Webster, UK product specialist, Atlas Copco UK, said: "Thanks to their reliability, low noise and simplicity of installation and use, these generators can easily be integrated into projects across many industries. And, to realise their full potential, we want to partner with distributors whose sales drive, service and support best exploit the opportunities they are creating. Accordingly, we are delighted to have established a relationship with Vital Power, who meets these criteria fully."
Rigorous testing
QIS models are intended for outdoor installation and undergo the most rigorous testing procedure on the market, including a transient behaviour test, ambient temperature performance test, water ingress test and certification, along with extensive noise testing. These features not only minimise environmental impact but also guarantee performance under any conditions.
They deliver fuel consumption savings of 5% on average, are up to four times quieter, and have a 25% smaller footprint than comparable models on the market. All of the generators offer 500 hours service intervals and feature premium engines with high load acceptance, in addition to an IP23 alternator with an auxiliary winding that withstands 300% overcurrent during the first 20 seconds to provide an instant start.
Josh Wright, UK sales & marketing manager, Vital Power, said: "We provide a full range of diesel generator products and services to a well-established and varied customer base across the retail, industrial, healthcare and education sectors. These are backed by a management team that has over 30 years' experience in the rental and standby power markets. After our founding in 2016, we have become one of the fastest-growing diesel generator distributors in the UK."
Image caption - From left to right: Paul Webster, UK product specialist, Atlas Copco UK; Josh Wright, UK sales & marketing manager, Vital Power; Nic Rae, managing director, Vital Power; Sergio Catalan, area manager industrial, Atlas Copco Power & Flow; Alex Rae, business development manager, Vital Power.
---
AIR-TECH EXHIBITION


16 April, 2024, 9:30 - 18 April, 2024, 4:00




Hall 9, the NEC, Birmingham, UK

FLUID POWER & SYSTEMS EXHIBITION


16 April, 2024, 9:30 - 18 April, 2024, 4:00




Hall 9, the NEC, Birmingham, UK