Ingersoll Rand saves energy at the Straalbedrijf Wikor BV facility
05 September, 2019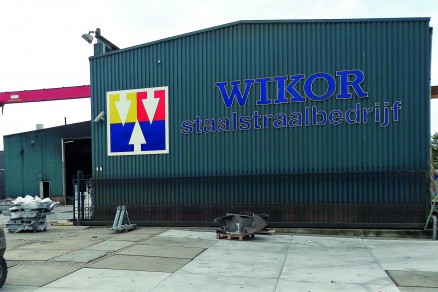 Ingersoll Rand upgraded and optimised the compressed air system at Straalbedrijf Wikor BV, a full-fledged surface treatment company from the Netherlands. Due to the modernisation of the system, in the first year since completing the project, Straalbedrijf Wikor BV saved 172,496 kWh of energy, equivalent of approximately €17.000.
The optimisation project was triggered by an unforeseen problem with a defective screw block on an over two decades old two stage oil-flooded rotary screw compressor. Facility managers at Straalbedrijf Wikor BV faced the choice of repairing or replacing the unit, a step that needed to be completed quickly to prevent costly downtime.
"Having had a successful working relationship, we reached out to the Ingersoll Rand team for support. We knew that we could rely on them to quickly find the most efficient solution to our problem," said Sidney Cramer, director at Straalbedrijf Wikor BV. "The situation we were facing was not planned or budgeted for and quick turnaround of the project and cost-efficiency were one of the crucial consideration points for us."
"At Ingersoll Rand, we work closely with our customers to show how the right approach to compressed air systems can help meet the pressing operational challenges and lower demand and cost of energy, said Almar Schouten, sales manager Benelux at Ingersoll Rand. "With only a week allotted to find a solution, our team conducted an analysis based on Electronic Assessment data collected at the site earlier in the year."
Identifying saving opportunities
The Ingersoll Rand Electronic Assessment tool helps customers identify saving opportunities from compressed air system optimisation. Electronic Assessment investigates system operation, collecting more than three million critical system data points during a typical 7-day production cycle to establish a baseline of existing system characteristics. This data is then analysed to identify opportunities to reduce energy and compressed air consumption, increase system reliability, optimise capacity and air pressure, establish effective storage, apply flow controls, and lower maintenance costs.
Following the analysis, facility managers at Straalbedrijf Wikor BV received repair and replacement options and calculations comparing the cost of repair and the cost of purchasing a new compressor, including the foreseen energy savings. They decided to replace the existing compressor with a proposed frequency-controlled compressor featuring electronic flow controller and precise pressure control, complementing the newly designed system with a refrigerated Ingersoll Rand D1300EC dryer for additional savings.
The new system includes an Ingersoll Rand IntelliFlow electronic flow controller to reduce energy use by 7.8 kW. The IntelliFlow creates a buffer between the air supply and air demand, allowing for more effective use of air storage and continuous dynamic response to demand fluctuations. The controller offers precise pressure control (+/- .75psig) with capacities from 500 – 17000 CFM, eliminating the requirement to turn on additional compressors.
---