Integrated, decoupled technology points the way forward
26 July, 2019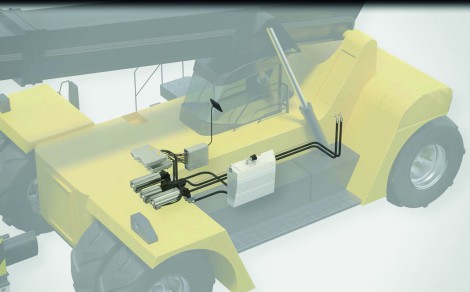 By James Playdon, engineering and marketing manager mobile integrated solutions, Parker Hannifin.
In mobile heavy lifting applications, as in many other areas within the industrial sector, there is motivation and a desire to improve efficiency and reduce fuel/energy use, primarily for reasons of cost, but also due to environmental, emissions and sustainability concerns. With this thought in mind, an industry shift towards electrification continues to witness a growth in momentum. Here, integrated, decoupled solutions offer an alternative to inefficient coupled power distribution approaches where the internal combustion engine (ICE) is sized for peak energy demand with no energy storage or recovery capabilities. Decoupled power distribution concepts can significantly enhance efficiency and allow the user to employ smaller, more fuel-efficient ICEs or remove the ICE altogether.
Electric dreams
With electrification delivering environmental, sustainability and performance benefits, many OEMs are looking to tap into the enabling technology. They can also hope to take advantage of improved maintainability, greater safety, and compliance with increasingly stringent emissions regulations.
Many drivers exist for this trend, not least the globe's efforts to clean up pollution. Responsible governance around the world is steering a culture of change. In Europe, for example, there is an agenda to reduce carbon emissions by 20% by 2020, while many cities around the world are looking to achieve carbon neutrality in the coming decades.
To provide an idea of the scale of this drive, a number of major cities, including many capitals, have signed up to the Carbon Neutral Cities Alliance, including Berlin, Boston, Copenhagen, London, Melbourne, Minneapolis, New York, Oslo, San Francisco, Seattle, Stockholm, Sydney, Vancouver, Washington and Yokohama.
Reducing emissions
Cities striving for carbon neutrality recognise that averting the worst impacts of climate change will require cutting greenhouse gas (GHG) emissions by at least 80% by 2050. As urban areas account for nearly three-quarters of humanity's emissions, reaching this goal will depend in large part on the ability of society and industry to reimagine and reinvent cities in ways that promote economic prosperity, social equity, enhanced quality of life and climate resilience.
In short, there is growing emphasis on sharing and implementing best practices for achieving 'transformative' deep carbon reduction strategies in urban transportation and energy use. Such ambitions, in turn, mean that emissions regulations are being increasingly tightened, and it is these very regulations that are fuelling industry's shift to electrification.
For the mobile machinery market, there exists continued pressure on increased urbanisation and growing global enforcement of tougher specifications. Thus, there is the greater cost and complexity of meeting the latest specifications; a major driver behind the demand for hybrid electric solutions.
Optimum technologies
Of course, choosing the optimum-enabling technologies means that the use of electrical power can provide numerous advantages. Conventional solutions in this area work with coupled power distribution, where the engine is sized for peak demand with no energy storage or recovery capability. In addition, the efficiency (torque / speed operation) of the ICE tends to be low.
---
AIR-TECH EXHIBITION


16 April, 2024, 9:30 - 18 April, 2024, 4:00




Hall 9, the NEC, Birmingham, UK

FLUID POWER & SYSTEMS EXHIBITION


16 April, 2024, 9:30 - 18 April, 2024, 4:00




Hall 9, the NEC, Birmingham, UK