Motion Control Industry Awards recognises industry excellence
21 June, 2019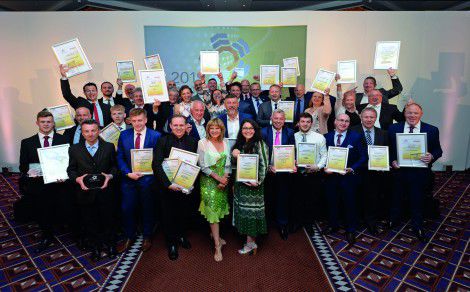 Held on the evening of 22 May, at the National Conference Centre near Birmingham, the 4th annual Motion Control Industry Awards Dinner once again provided a wonderful celebration of business and professional excellence.
Co-located with DFA Media's Smart Industry Conference, and the BCAS Annual Conference, which were each staged during the day at the same venue, the key facets of personal endeavour, technical innovation, engineering advancement and commercial acumen were all acknowledged and rewarded.
Hosted by broadcaster and journalist, Penny Smith, with an impressive, if unusual, musical performance by funny man Rod Deering, the evening was heralded a major success. The achievements and endeavours of some 37 Finalists were presented to the enthralled 200 strong audience in an atmosphere of great anticipation, before the nine worthy winners were revealed, as follows:
Technical Innovation of the Year – Sponsored by Hydraulics & Pneumatics
Winner: SMC Pneumatics - EX600W Integrated Wireless Valve System
Environmental/Energy Efficiency Award - Sponsored by Rexroth – a Bosch Company
Winner: Brammer Buck & Hickman: Compressed Air System Audits
Project of the Year - Sponsored by ABB
Winner: JETCAM International - Expert Nesting Software for Amada Laser
Manufacturer of the Year - Sponsored by Elmo Motion Control
Winner: Gardner Denver
Distributor of the Year – Sponsored by SMC Pneumatics
Winner: Pennine Pneumatic Services
Contribution to Skills & Training – Sponsored by BFPA
Winner: ABB – Drives & Motors Training
Engineer of the Year – Sponsored by Parker Hannifin
Winner: Juan Carlos González Villar – Kabel.Consult.Ing
Lifetime Contribution – Sponsored by BCAS
Winner: Kevin Prince – Atlas Copco/Power Technique
Lifetime Contribution – Sponsored by BFPA
Winner: Phil Keep – MP Filtri
[subhead] Industry Support
Chris Buxton, director & CEO at the BFPA, said of the awards programme: "The 2019 MCI Awards Ceremony was another excellent event which represents the very essence of the growing trend towards generic Motion Control in the Fluid Power sector. There is currently no other event or awards ceremony that addresses this trend and I look forward supporting an even bigger celebration in 2020, when of course it co-locates with the suite of related exhibitions at the NEC."
Vanda Jones, executive director of BCAS, who this year co-located the Society's Annual Conference with the Awards Dinner, added: "This year's MCI Awards Ceremony once again excelled itself and provided a much-valued occasion for recognising and rewarding the fantastic achievements that this important sector has to offer. It was a thoroughly enjoyable evening and my congratulations go to all the winners."
For more information on both the Winners and Finalists in this year's awards programme, visit the website: http://mci-awards.com.
---
AIR-TECH EXHIBITION


16 April, 2024, 9:30 - 18 April, 2024, 4:00




Hall 9, the NEC, Birmingham, UK

FLUID POWER & SYSTEMS EXHIBITION


16 April, 2024, 9:30 - 18 April, 2024, 4:00




Hall 9, the NEC, Birmingham, UK