Third annual Motion Control Industry Awards success
11 May, 2018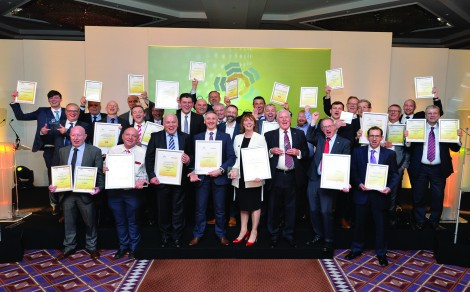 The third annual Motion Control Industry Awards Dinner, held on the evening of Tuesday 10 April at the National Conference Centre near Birmingham, once again provided a fitting celebration of business and professional excellence.
Co-located with the Fluid Power & Systems, Air-Tech and Drives & Controls exhibitions at the nearby NEC. The Motion Control Industry Awards event recognises the achievements of 'motion control' companies and individuals who strive to go the extra mile.
Hosted by broadcaster and journalist, Helen Fospero, with an endearing musical performance by electric string quartet Siren, the evening proved to be a major success. The achievements and endeavours of some 37 finalists were presented to the 250-strong audience before the 9 worthy winners were revealed as follows:
Technical Innovation of the Year – Sponsored by GAMBICA
Winner: Elmo Motion Control – Gold Twitter Innovation
Environmental/Energy Efficiency Award – Sponsored by Bosch Rexroth
Winner: JBC Industrial Services – Energy Efficient Oilon Burners and Ecosafe
Project of the Year – Sponsored by ABB
Winner: Physik Instrumente - High Temperature Uniaxial Creep Apparatus
Manufacturer of the Year – Sponsored by Hydraulics & Pneumatics
Winner: ABB
Distributor of the Year – Sponsored by Beaumanor Engineering
Winner: Thorite
Contribution to Skills & Training – Sponsored by BFPA
Winner: Primary Engineer Programmes
Engineer of the Year – Sponsored by Parker Hannifin
Winner: Mitch Randall, KEB UK
Lifetime Contribution – Sponsored by BCAS
Winner: Rodney Stafford
Lifetime Contribution – Sponsored by BFPA
Winner: David Phillips
Entries for the 2019 awards programme will open in September, so if you know of a motion control product, project, company or individual that you believe is worthy of wider recognition, contact Touchwave Media Ltd.
---