Flowmeter innovation moves forward
22 May, 2019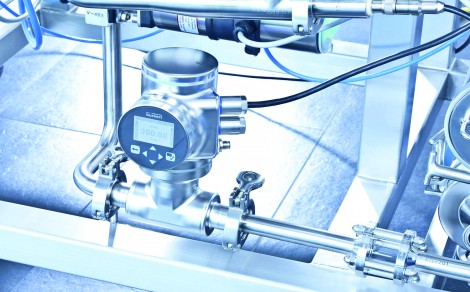 Bürkert has released the latest update to its FLOWave flowmeter, which offers greater functionality and widens its appeal for the pharmaceutical sector as well as food and beverage applications. The list of new capabilities includes the ability to detect different fluids, which will open-up new applications in many areas.
In very simple terms, the Type 8098 FLOWave uses a smooth stainless-steel tube, and surface acoustic wave (SAW) technology to measure fluid flow very accurately. It has already demonstrated many advantages in hygienic / water applications and the scope is now set to increase significantly with the latest model release.
Fluid detection
The introduction of the density factor and acoustic transmission factor have helped improve accuracy for a wider range of fluids, as well as the detection of bubbles and solids. The density factor compensates for the change in the speed of sound at different temperatures.
This enables FLOWave to detect a change of liquid in a running process, for example when a clean-in-place (CIP) process ends and normal production is resumed. Similarly, it can also detect the changeover point between two products and provide this information to the< supervisory system.
The acoustic transmission factor (ATF) allows FLOWave to detect bubbles or solids in the liquid and display this information as a percentage, which can be used by the process management system to take the appropriate action, depending on the level of inclusion.
The ATF can also detect pipe fouling over a period of time. Provided the same liquid is being transferred, trend analysis of the flow data over an extended period will highlight any issues with pipe fouling, or a reduction in pipe diameter that is causing reduced flow, increased pressure and lost performance.
FLOWave offers the opportunity to constantly monitor flow rates and total volumes to ensure process quality and uniformity. By delivering all this information from just one instrument, it is possible to minimise the footprint of the process installation.
Improving connectivity
With the rapid advance of Industry 4.0, connectivity is becoming increasingly important. Bürkert uses its Systembus communication protocol that offers unrestricted flexibility between Bürkert devices and enables integration with established fieldbus and automation systems.
In addition to standardised interfaces, such as PROFIBUS, Modbus, TCP and EtherNet/IP, Bürkert has also created a Wi-Fi module that extends the user interface and opens up the possibility of connecting the field device over a Wi-Fi network.
This flexibility, coupled with the inherent benefits of its design, make FLOWave a strong contender for many applications in hygienic environments. This is especially true for processes involving liquids with higher viscosities, where it can be difficult to find an accurate flowmeter. Alternatives such as a Coriolis flowmeter can introduce a significant pressure drop due to their design, but this and other drawbacks can be avoided by selecting a smooth bore flow-through flowmeter, such as FLOWave where the main tube dimension can be matched with system piping.
Of course, such a high-quality measuring device comes with a host of certificates including EHEDG compliance, FDA, ASME BPE as well as certificates for calibration and industrial ethernet conformity.
There have also been some upgrades in terms of materials and the construction of the flowmeter. It can now be specified with all-stainless-steel fittings, including the cable glands and the pressure compensating element, which were previously only available in nickel-plated brass.
For those looking for an innovative, lightweight, hygienic and flexible flowmeter, take the opportunity to discuss your requirements with an expert from Bürkert. FLOWave can be tailored to suit specific applications, ensuring long term accuracy and reliability as well as the highest levels of hygiene.
---