THE COSTLY EFFECTS OF MACHINE DOWNTIME
21 May, 2019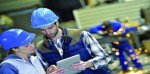 Across the UK, no matter what industry a company specialises in, machine downtime can have a major impact on your business. If you're not prepared, technical errors in your appliances can bring significant costs to your productivity and impact your business's profit margin.
However, if these possibilities were managed effectively, then it could help boost the UK economy which couldn't come at such a crucial time, as we're still experiencing the uncertainties of Brexit. But what is the true impact of machine downtime in UK industry and what solutions are available?
Simple services, like industrial pump repairs, can enlighten you to internal issues that could have otherwise sparked lengthy machine downtime if not noticed. Adopt a preventative maintenance mindset and check your machines and computers for viruses, glitches, and inefficient parts that could cause a companywide cessation of work.
Click here for the full release
---