Beyond Brexit – insight on the industry impact in 2021
09 March, 2021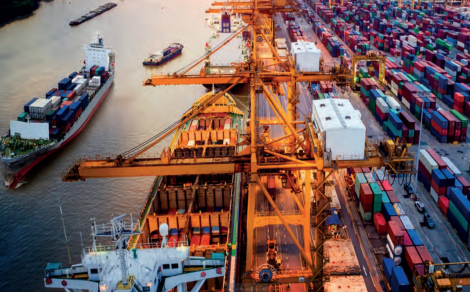 The UK has left the single market and customs union, meaning the rules for moving goods between the UK and the EU are now more complex. The free trade agreement means that tariffs and quotas won't apply but businesses must still navigate customs declarations, requirements on products' origins, and other sources of increasing paperwork and cost.
Robert Walker, PwC UK's engineering and construction leader, says: "While some firms have invested time in understanding the full extent of their supply chain to minimise any disruptions, they also need to check that their contractors and suppliers have been as thorough. Knowing what's happening in the wider project supply chain is a necessary step towards preventing a cumulative issue bringing a sudden stop to construction projects, from commercial and residential builds to major infrastructure schemes.
"Cladding, for example, is a vital ingredient in almost every project with much of it sourced from the EU. While a trade deal has been struck, border customs checks could still put stresses on delivery timescales for some time to come, an issue that adds complications and costs. If lead agencies don't know if their contractors have put contingencies in place to ensure the timely supply of materials such as cement and windows, they run the risk of facing unnecessary headaches and costs should supplies - and subsequently projects - grind to a halt.
"Construction projects rely on a timely flow of supplies to meet investor, business and customer expectations. It's never too late to ask suppliers and contractors the question, 'what steps have you taken to manage your supply chain risks?' It could help to prevent difficult conversations, not only with your contractors but with investors, customers and your own workforce, in the months ahead." Aerospace and defence is resilient and resourceful but challenges remain
Despite the current landscape, the UK aerospace and defence sector is proving to be resilient and resourceful. Recognised as a world leader, second only to the US, a recent PwC sector report revealed that four in five organisations expect to invest in product and service innovation, with almost half of defence firms looking to government for support. However, economic and COVID-19 impacts could still stifle this status unless action is taken now. Craig Kerr, PwC aerospace and defence partner says: "With a single jet engine containing as many as 220,000 parts, sourced from a range of global suppliers, ensuring each item turns up where it's needed and on time is vital. Commercial aerospace production has already been heavily reduced by COVID19, and with future travel outlook uncertain, aerospace supply chains are operating well below maximum capacity.
"Some of the short-term delays that will arise from increased border controls have been mitigated already through robust contingency planning; others, once resolved, will be caught up on quickly due to the extra capacity. The more significant challenge remains COVID-19's impact.
---