Engineering the future
17 May, 2019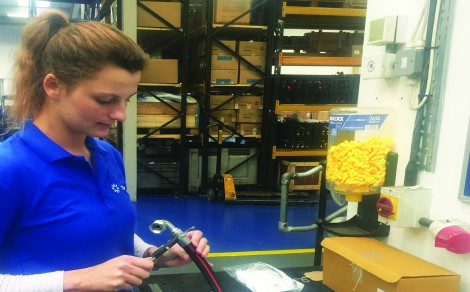 Apprenticeship placements are often associated primarily with manufacturing or engineering disciplines. However, there is of course the potential for these types of schemes to offer major advantages in other areas of an organisation. One company that has successfully adopted this strategy is Derby-based Tidyco, the manufacturer and distributor hydraulic and pneumatic components and assemblies, and provider of hydraulic system design, consultancy and installation services.
As well as offering hydraulic engineering apprenticeships, Tidyco also takes on apprentices within its customer services and accounts departments. Rather than adopt the philosophy of apprenticeships being a mid-term investment, Tidyco explains that it strives to ensure staff retention and development within the company after the apprenticeship placements have finished.
Joining Tidyco in 2015 as an apprentice, Christopher Hamp was retained by the business and promoted to the role of coordinator for Tidyco's Hose Doctor Division. A typical working day for Hamp sees him allocating jobs to a mobile fleet of engineers who are required to replace blown hydraulic hoses in order to minimise critical downtime.
"I joined Tidyco as part of an apprenticeship placement within the Tidyco customer services team," explained Hamp. "This acted as a solid foundation to build inter-personal skills with clients. I really liked the company and was thrilled when Tidyco offered me full time employment. Nowadays, I work within the Hose Doctor Division whereby I react to customer requirements and allocate engineers to complete on-site work schedules. The technology is fascinating, I have sophisticated vehicle tracking and live traffic monitoring software at my disposal which empowers me to allocate engineers within closest proximity to the site. This not only reduces critical down time but is also great for the environment as it minimises unnecessary driving. I am currently undergoing a Level 4 NVQ in Business Administration."
Tidyco's finance department appointed Tom Robotham in 2017 as an apprentice to handle accounting administration requirements. More recently, Robotham has been promoted to the position of credit control executive where he adds value to the business by ensuring customer payment activity is effectively regulated. "I feel incredibly valued by Tidyco and believe that my role is crucial in supporting an important aspect of the company's finances," he said. Robotham is currently completing an AAT Level 2 Certificate in Accounting.
Positive encouragement
Understandably, Tidyco believes in encouraging the younger generation into the realms of manufacturing and engineering. The Tidyco Climate Control Division employs George Powell as an apprentice where he develops all necessary skills to build a career as an air conditioning engineer. Powell is currently undergoing a Level 2 NVQ in Installing, Testing and Maintaining Air Conditioning and Heat Pump Systems.
Well-known for its involvement within the rail industry, Tidyco has been supplying rolling stock OEM new builds and aftersales markets for over 40 years. Tidyco's manufacturing plant in Derby is intrinsic to supplying rail clients with safety critical braking systems.
---