New partnership strengthens IMH's hydraulic offering to the energy sector
31 March, 2020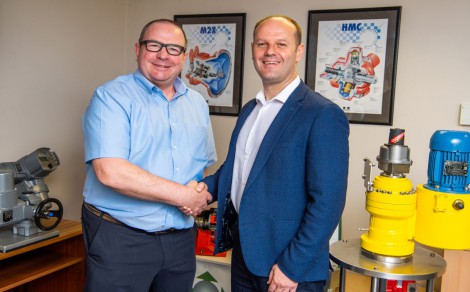 Industrial and Marine Hydraulics (IMH) has signed an MOU with Advanced Actuators Ltd to provide combined hydraulic solutions to the nuclear energy sector.
IMH, headquartered in Middlesbrough, UK creates hydraulic solutions for a range of industries, including the energy sector, by drawing on its extensive engineering knowledge and experience of real-world applications.
For several years IMH has been working alongside Advanced Actuators, a wellestablished supplier of actuators, control solutions and hydraulic components, providing field operatives to support Advanced Actuators in delivering hydraulic maintenance solutions at nuclear sites.
The MOU will enable customers in the nuclear energy sector to benefit from a one-stop service including a shared resource and planning capability as well as having integrated reporting lines and regular governance.
Through the MOU agreement, the partnership has secured continued work on both the EDF Heysham and Hartlepool nuclear power stations, which have a planned outage for maintenance every two years. These sites have numerous hydraulic units that are over forty years old, though they weren't supplied by IMH or Advanced Actuators the companies have the capabilities to maintain and offer upgrades to these systems.
Formalised partnership
Chris Woodhead, director at Advanced Actuators, comments: "Having worked closely with IMH for a number of years, it's great to have this partnership formalised and it will enable both parties the opportunity to provide a wider range and depth of services.
"By bringing our two companies together clients can benefit from a single point of contact for niche competencies with access to a wider resource pool."
Ian Duffew, commercial director at IMH, adds: "We are delighted to enter into this MOU as both organisations share similar history and operate under the same values and client approach.
"The signed agreement will support the delivery of a coordinated solution, from bid to completion, that is aligned to the customer's challenge and delivers quality and efficiency benefits through our joint expertise."
IMH operates across a number of sectors including offshore, marine, infrastructure and energy and its experienced team delivers services in design, installation and commissioning of hydraulic engineering projects. The team's wide product knowledge enables it to source and supply high quality spares and components.
Image caption: Chris Woodhead, director at Advanced Actuators (left) alongside Ian Duffew, commercial director at IMH after having signed the MOU agrrenent.
---