BCAS launches free best practice guide for air treatment
17 May, 2019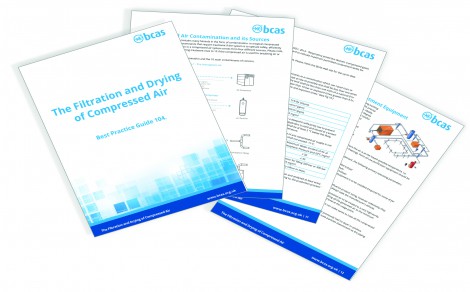 The British Compressed Air Society (BCAS) has launched a free best practice guide to help operators and specifiers make an informed choice on which type of compressed air treatment equipment is best suited to the air quality required.
Entitled 'The Filtration and Drying of Compressed Air,' the 60-page guide is available for free download from the BCAS website at www.bcas.org.uk/airtreatment and has been produced with the input of leading engineers from BCAS's members in the field of air treatment and purification.
It is designed to help demystify not only the selection of the correct air treatment equipment but to provide practical advice on which contaminants can be present and their impact on the processes that compressed air is being used for.
Roy Brooks, BCAS's technical development officer, adds: "As technology for compressed air treatment continues to evolve, there is now a wide range of equipment available which can satisfy the most demanding of compressed air treatment needs. However, with so many variables to consider, the selection of the right equipment can be a complex task, affecting everything from maintenance schedules to the ongoing costs associated with achieving the required standards.
Independent and reliable source of information
"At BCAS, we act as an independent and reliable source of technical information for the industry, providing impartial advice which can help operators cut costs, improve efficiency and ultimately profitability.
"The 'Filtration and Drying of Compressed Air' guide will prove invaluable during the entire specification process, covering all stages of system design; from an overview of the sources of contamination, such as solid particles, water and oil, to the relevant standards for air purity. It also examines the extensive range of air purification technologies available and how these operate, including after-cooling, dryers, air receivers, filtration grades and condensate management.
"With compressed air energy costs a major contributing factor to a site's overall electricity consumption, the guide also focuses on the varying energy efficiencies of the different treatment technologies available as well as guidance on the ongoing maintenance of the system."
The guide is aimed at typical industrial compressed air applications operating at low pressure, with a range between 7 bar g to 20 bar g.
To download a free copy of the guide, visit www.bcas.org.uk/airtreatment. Printed copies of the guide are available from BCAS for £4.00 each plus postage by emailing www.enquries@bcas.org.uk.
********************************************************************************************************
Compressed air is not clean. It contains many hazards in the form of contamination. In a typical compressed air system, there are 10 main contaminants that require treatment if the system is to operate safely, efficiently and cost effectively. Contamination in a compressed air system comes from four different sources. Please note, the number of contaminants requiring treatment rises to 15 if the compressed air is used for breathing air or medical air applications.
When selecting purification equipment, it must be remembered that contaminants will be in one of three different phases (states of matter). For example, water and oil in a compressed air system will be found in liquid form, as an aerosol (fine mist) and in a vapour (gaseous) phase and a different purification technology will be required depending upon the phase of the contaminant (i.e. liquid, aerosol or vapour).
********************************************************************************************************
---