Eaton can help to increase efficiencies in wine production
23 April, 2019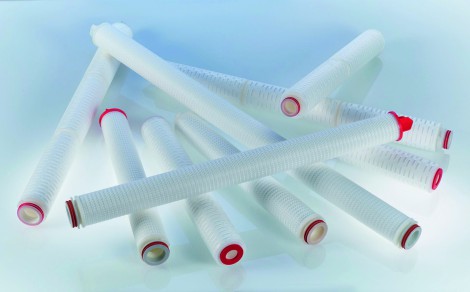 The Filtration Division of power management company Eaton showed a wide range of filtration and biotechnology products at the ENOMAQ trade show in Zaragoza, Spain, which was held between 26 February and 1 March.
The exhibition programme included diverse filtration solutions to remove particles such as: colloids, tannins, yeasts and bacteria (such particles can cause filters to clog early) for more efficient wine production and to retain valuable components for wines rich in colour and taste. Additionally, combinable biotechnology solutions that enable winemakers to produce different wine types were on display.
Tailored solutions
One highlight from Eaton's range of filtration solutions is the extended Beco filter cartridge offering, including filter cartridges that are tailored to the specific requirement profiles of wine filtration. Depending on the focus – whether performance, safety, economy, flexibility or the preservation of individual taste and colour – Eaton application experts were available at the show to discuss optimum combinations of Beco Protect FS FineStream pre-filter and Beco Membran PS Wine membrane filter cartridges for an effective pre-filtration and final filtration of full-bodied, bright and stable wines.
Increased productivity
Eaton also displayed the premium Becopad depth filter sheet that is made of high-purity cellulose. In addition to the flat sheet, the Becodisc stacked disc cartridge and Beco Protect CS CellStream depth filter cartridge are available. Each is designed to increase winemakers' productivity with high-performance filtration systems. At the same time, these filters are claimed to be able to retain the colour and taste of wines up to 100% due to the use of high-purity cellulose and waive of additional mineral components.
The range of filtration product is rounded-off by Eaton's index measuring device Beco LiquiControl2, which can help wine manufacturers to determine the precise filterability of wine. From looking at the test results, the winemaker can adjust their downstream filtration process to achieve increased efficiency of filter media and higher profits.
Fermentation solutions
From its extensive biotechnology product range, Eaton featured solutions for a full and pure alcoholic fermentation, including SIHA active dry yeast 8 for red wines and SIHA Cryarome for white wines. To support flavour release and improve filterability SIHAZYM Extro enzyme for mash extraction and SIHAZYM Claro enzyme for grape must pre-clarification were also presented.
Eaton's Filtration Division provides liquid filtration solutions that can help companies to improve product quality, increase manufacturing efficiency, protect employees and equipment, as well as help to achieve sustainability goals.
---
AIR-TECH EXHIBITION


16 April, 2024, 9:30 - 18 April, 2024, 4:00




Hall 9, the NEC, Birmingham, UK

FLUID POWER & SYSTEMS EXHIBITION


16 April, 2024, 9:30 - 18 April, 2024, 4:00




Hall 9, the NEC, Birmingham, UK