HP pneumatic actuator range remains 'best buy'
11 December, 2020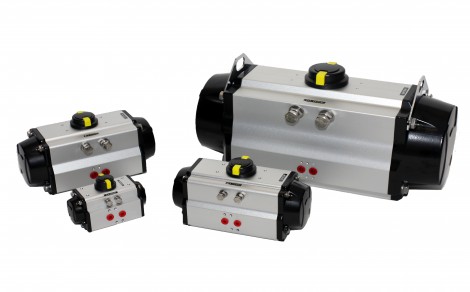 Actuated Solutions, the UK-based independent provider of valve automation products, comments that the HP Pneumatic actuator range is a 'best buy' for the general process market, due to its high specification and relatively low cost.
Claimed by the company to be the only pneumatic actuator range at an affordable price point to boast a SIL rating, Actuated Solutions believes the HP pneumatic range offers customers value for money in terms of reliability and specification.
Designed for use with quarter-turn valves, the HP pneumatic series has a wide torque range, which, according to Actuated Solutions, means it can match the operational characteristics of plug, ball or butterfly valves; or any other device requiring precise and reliable 90-degree rotary motion.
Made with high-quality hard anodised aluminium and subjected to 100% pressure, leak and rotation testing prior to dispatch, Actuated Solutions maintains that the HP pneumatic range is an all-round safe bet. "The HP Pneumatic actuator range is by far and away the best in class on the market – no other comparably-priced pneumatic range offers a SIL rating or the same degree of specification," says as Paul Slaughter, managing director at Actuated Solutions. "When it comes to an actuator range that will remain fully operational under even the most severe conditions, these relatively low-cost, high-quality models provide a remarkably reliable and cost-effective means of valve operation, ensuring a longer service life and lower overhead costs."
The ATEX & PED-certified and CE-marked HP pneumatic actuator range is available in the UK via Actuated Solutions. All actuators are guaranteed for 1,000,000 operations and supplied to suit ISO5211/DIN3337 & Namur VDI/VDE3845. In addition, all models are easily adjusted for both open and closed positions and are rated from -20 to +80degC as standard, but Actuated Solutions can offer actuators for low temperature and high temperature applications, as well as actuators in different materials for more severe applications.
https://twitter.com/asl_actuators
https://www.linkedin.com/company/actuated-solutions-limited/
---