Engineering growth in Glasgow schools recognised by Minister
09 April, 2019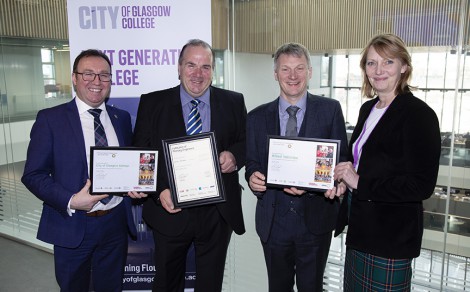 A STEM event held at City of Glasgow College has recognised Allied Vehicles for the impact it has had on engineering education across Glasgow.
Scotland's Minister for Trade, Investment and Innovation, Ivan McKee, presented Gerry Facenna, chair of Glasgow-based Allied Vehicles, with a Primary Engineer Special Recognition Award. The Group has funded engineering projects for thousands of primary school pupils, and training for hundreds of teachers, across the city.
Vision
Dr. Susan Scurlock MBE, chief executive and founder of Primary Engineer, said: "Our vision to provide high-quality engineering education at an early stage in school requires partnerships and we are indebted to our Glasgow funders and partners, Allied Vehicles, City of Glasgow College and DYW Glasgow for their support."
Gerry Facenna and Allied Vehicles' philanthropy in Glasgow is well-documented. He explained why he continues to support Primary Engineer. "Allied Vehicles' success has been in large part due to great quality engineering to develop our wheelchair accessible vehicles. We encourage apprentices and graduates through our engineering programmes and enjoy watching them thrive and grow. Primary Engineer is a vital programme for inspiring future engineers from an early age, which is why we have continued to support them for five years."
City of Glasgow College supports Primary Engineer by hosting teacher training and providing tours of its Nautical and STEM faculty to help develop educators' understanding of studying engineering at college. The college was awarded a Proud Partner certificate for its on-going support of Primary Engineer programmes across Glasgow.
Teachers from Ivan McKee's constituency were among those starting the Primary Engineer programmes for the first time at the event which took place at the college's Riverside campus. Mr McKee MSP said: "I'm delighted to be here to support Primary Engineer's work to encourage young engineers of the future and meet their valued partners in Glasgow."
Shortfall
Engineering is one of the most productive sectors in the UK, but a shortfall of 200,000 qualified engineers every year is damaging growth. Engineering is a profession in which young people can make their mark on the world.
Further funding from Developing Young Workforce Glasgow which creates initiatives to help develop skilled, talented and work ready young people to grow the city will enable the Primary Engineer and Secondary Engineer programmes to reach more pupils by targeting 100% of schools receiving engineering training and projects in Glasgow over the next few years.
Primary Engineer is a not-for-profit organisation working to promote engineering skills and careers and its vision is that targeted interventions need to happen sooner rather than later to encourage young people from all backgrounds to consider routes into and careers within engineering.
To find out more about how you can engage with Primary Engineer visit www.primaryengineer.com
Image caption Left to right: Roy Gardner, Vice Principal, Corporate Development and Innovation at City of Glasgow College; Gerry Facenna, Allied Vehicles; Ivan McKee, Minister for Trade, Investment and Innovation; Dr Susan Scurlock, MBE..
---
AIR-TECH EXHIBITION


16 April, 2024, 9:30 - 18 April, 2024, 4:00




Hall 9, the NEC, Birmingham, UK

FLUID POWER & SYSTEMS EXHIBITION


16 April, 2024, 9:30 - 18 April, 2024, 4:00




Hall 9, the NEC, Birmingham, UK