'If you were an engineer, what would you do!'
22 February, 2019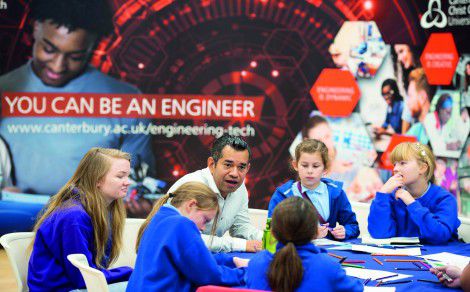 Canterbury Christ Church University and Primary Engineer Programmes have launched the 'If you were an engineer, what would you do!' competition across the South East.
The competition, announced by The University's Vice-Chancellor and Principal, Professor Rama Thirunamachandran, Professor Helen James, Senior Pro Vice-Chancellor (Education, Enhancement and Student Experience) and Chris Rochester (UK Director Primary Engineer Programmes) at Augustine Hall, Canterbury, will link primary and secondary schools across Kent, Essex, East Sussex with the University and engineering firms.
As University partner for the new South East region, Christ Church hopes the competition will inspire a generation of young people from all backgrounds to seek a rewarding career in engineering, science and technology.
Chris Rochester, UK director for Primary Engineer Programmes said: "Canterbury Christ Church University has demonstrated its commitment to STEM education and the engineering sector ahead of its new School of Engineering Technology and Design even opening in September 2010. This collaboration is sure to have engaged schools, industry and those interested in following a career in engineering."
Capturing the creativity of young minds
Professor Rama Thirunamachandran, vice-chancellor of Canterbury Christ Church University, said: "The competition taps into the latest design and engineering skills that most young people have, it captures the creativity of young minds and nurtures that talent by showing them that engineering can be a rewarding and world changing career. We are delighted to be working with Primary Engineer Programmes as their partner for the South East, as well as the region's primary and secondary schools and local engineering firms who will be providing their engineers to be interviewed and help with grading all the entries into the competition".
Last year the 'If you were an engineer, what would you do?' competition, engaged with over 37,000 primary and secondary school students nationally to get them interested in engineering by asking the question and encouraging schools to work with engineers as they answer it. The competition concludes in the summer with a special awards event and public exhibition. One of the inventions will be selected and made into a prototype by the University.
The University, which has 16,000 students across Kent and Medway, delivers courses which span academic and professional subjects. Canterbury Christ Church University is funding the competition to strengthen its already solid reputation and track record, nationally and internationally, for delivering courses and research that address real-world issues and opportunities - equipping graduates with a breadth of relevant skills for their future careers.
In partnership with local industry expertise, the University will deliver a new industry-informed flexible curriculum in Engineering, Technology and Product Design. This new exciting partnership will benefit Kent and the wider region by addressing higher level skills shortages in STEM subjects and support the regional economic growth, adding between £7.6 million to £11.4 million into the regional economy each year.
Working in partnership
Professor Helen James, senior pro vice-chancellor (Education, Enhancement and Student Experience), said: "By working in partnership with local businesses and stakeholders we will be able to respond to the need for more trained STEM specialists; inspiring a generation of young people from all backgrounds and equipping them with the high-quality skills they need for a rewarding career in engineering, science and technology. The partnership with Primary Engineer Programmes is an integral part of this."
---