Rough environmental conditions – Spring couplings from TCP for road construction machinery
09 April, 2019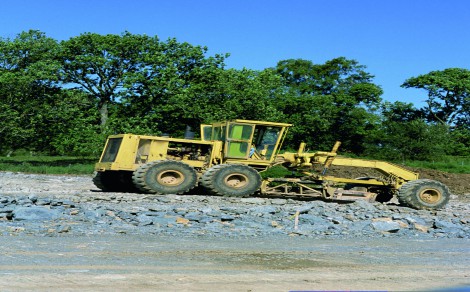 Torsion Control Products (TCP) has developed a customised coupling configuration for a manufacturer of motor graders for road construction.
With their unique torsional characteristics, the robust spring couplings attenuate torsional vibration, isolate resonance, protect against overload and shock, reduce noise, improve the service life of bearings and gears and increase system durability. They operate in even the roughest environmental conditions.
Motor graders are heavy equipment used for farm and forestry road maintenance and road construction. 'Uncomfortable and unacceptable' are words that one road construction equipment manufacturer didn't want to hear as they prepared to take a new motor grader to market. After tooling the machine and putting it through final testing before releasing it for production, operators found that the grader suffered from resonance during normal operation, making it unsaleable.
Concerns discussed
Because their current coupling supplier was unable to resolve this issue, the manufacturer sent eight engineers to Torsion Control Products. The TCP team listened to their concerns and discussed their needs, from configuration to cost. TCP quickly proposed a unique solution: an all new spring coupling configuration that matched the motor grader's unique performance specifications and aligned with the direct-mounted transmission.
Prototyping
The team pressed ahead with production of its first-piece prototype in four weeks. The new coupling went into production six weeks after the first meeting. Due to the efficient and speedy work of TCP, the motor grader could be launched without delay.
"By listening to the customer, TCP developed an enhanced custom product in record time. And one that was, moreover, more durable and robust," says Dr. Peter Jaschke, business development manager for Torsion Control Products in Europe, which has an office in Germany. "It also made the motor grader much more comfortable for operators. The custom spring coupling continues to operate exceptionally well in the application."
TCP spring couplings are designed for use in construction machines, agricultural vehicles, mining equipment, marine powertrains and industrial equipment. With their particular torsional characteristics, the spring couplings are especially suited to modern diesel engines that produce lower emissions and more power in smaller packages at lower operating speeds.
They run reliably and attenuate drivetrain vibration even in the roughest of applications. With their Smart Damping system, the spring couplings can be tuned to supply damping only when needed and to isolate resonance when damping is detrimental. This reduces torsional spikes at start up, shutdown and transient events, which increases the coupling's lifespan. The range of TCP spring couplings comprises various versions and covers a torque range from 27 to 27,000 Nm.
Bauma 2019
Torsion Control Products will exhibit at Bauma 2019, the international trade fair for construction machinery, 8 to 14 April, Munich, Germany (joint booth with Groeneveld Transport Efficiency BV).
---