Making the connection in the construction industry
30 August, 2018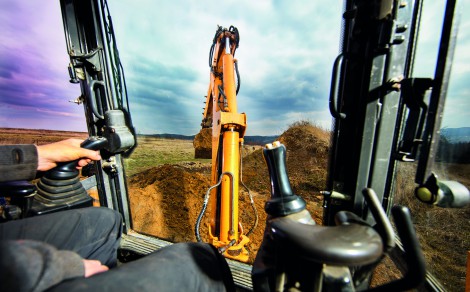 Spokespeople from British Fluid Power Association member companies, Sun Hydraulics Ltd, Fluidpower Group and Camozzi Automation Ltd, and OEM Marubeni-Komatsu consider the importance of the connectivity within the construction sector; both from a technology and human interaction perspective.
From a technology standpoint, construction, like any other industrial sector, cannot afford to stand still. Indeed, the past few years have seen an increasing level of attention being given not just to developments in more 'traditional' areas of equipment and machinery but also in areas based on more sophisticated levels of automation and computerisation.
We increasingly hear the term digital transformation, which can incorporate concepts such as Industry 4.0 (the 'fourth industrial revolution') and the greater computer-based connectivity of humans and machines; the Industrial Internet of Things (IIoT) and embedded digital devices within tools, equipment and systems; and Big data involving the immense sources of data that can be analysed by computer algorithms to plot business patterns etc.
Moreover, we hear about how these developments will increasingly enhance or even transform not just the working practices within construction but also the end products – the buildings themselves and how they are made and maintained. Part of the motion and control backbone of this move towards ever greater levels of digital maturity is fluid power; whether hydraulic or pneumatic.
Plant and machinery lifecycle
Adrian Farnham, managing director, Camozzi Automation Ltd, believes developments in data analytics – including Big Data – are key facilitators in terms of ensuring users and OEMs are better informed regarding every aspect of equipment and machinery's lifecycle. "With more refined levels of system integration involving the fluid power equipment, electronics, PLCs and computer software – particularly with regard to Big Data analytics – the construction sector is now in a better position than ever before to optimise every aspect of plant and machinery such as excavators or conveyors – from design through to reliable operation and ongoing maintenance, repair and overhaul," he said.
"The importance of Big Data cannot be over-emphasised, because exporting data without having an effective mechanism in place to ensure the right selection, extraction, comprehension and execution of relevant data from the vast pool of business, operational and maintenance-related information that a company can have at its disposal can result in ineffective management of your assets. This can result in less effective operation of machinery and more costly downtime."
Darren Jeavons, marketing manager, Fluidpower Group, stressed the importance of a sound maintenance regime in order to ensure plant and machinery is kept efficient and operational. "At Fluidpower Group we recognise that machine/production down-time can cost businesses millions of pounds each year, so as a distributor we have long-term partnerships with the leading fluid power manufacturers and are able to keep abreast of the most innovative products." He further commented: "Our technical teams often work with manufacturers to help bring products to market which overcome the modern challenges our customers experience. We have found a key area of benefit to customers is the ability to easily identify a problem or a potential problem through integrated condition monitoring system. Such systems provide the transparency required for effective proactive maintenance leading to significant improvement in operational efficiency."
---