Webtec recognises young talented engineer with Arkwright Engineering
26 March, 2019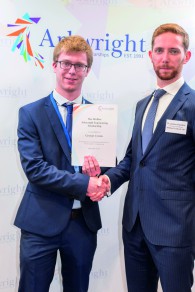 Webtec, the St Ives, Cambridgeshire-based hydraulic measurement and control company, has announced George Crooks as this year's winner of the Roy Cuthbert Scholarship. This award is part of the wider UK Arkwright Engineering Scholarship Scheme and was named after Webtec's founder, a passionate engineer and entrepreneur who passed away in 2013.
The Arkwright Engineering Scholarships act as a beacon to the most talented STEM (science, technology, engineering and maths) students in the UK schools and help to ensure that high-potential young people stay engaged in the engineering careers pipeline, in the critical 16 to 18 age range.
The Scholarships are supported by more than 200 different sponsoring organisations; including commercial and industrial companies, universities, government and trade organisations. Some 393 students achieved an Arkwright Engineering Scholarship award as part of a drive to inspire future leaders in engineering.
Those honoured were handpicked from 1600 hopefuls who applied for the scholarship in 2018 following a rigorous selection process, which assesses their academic, practical and leadership skills in engineering disciplines.
Encouragement and support
Webtec recognises the importance of encouraging young talent in engineering and in addition to the Arkwright Scholarships the company also actively supports other programmes; including the Secondary Engineer Fluid Power Challenge in both the UK and the US, and the Engineering Education Scheme (EES).
Webtec's managing director, Martin Cuthbert, said: "The Arkwright Engineering Scholarship Scheme is a fantastic way to nurture and celebrate the engineering talent that we have in this country and we are proud to support and encourage young people into our industry. We would like to congratulate George on being awarded the Roy Cuthbert Scholarship and look forward to welcoming him to Webtec."
---