Reducing downtime with efficient hydraulic filtration
18 January, 2019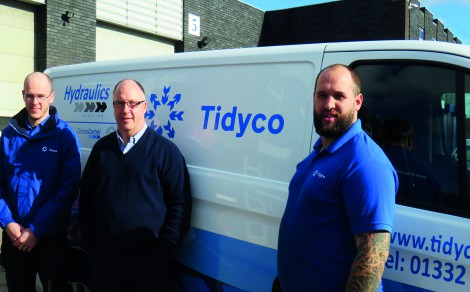 By David McLean, manager for Tidyco's Hydraulics Division.
When considering that between 85 and 90% of hydraulic system failure is due to contamination, it becomes abundantly apparent how important hydraulic filtration is with regards to reducing critical downtime. Downtime not only has a dramatic impact upon productivity but is also detrimental to the bottom line. It is therefore, prudent for businesses to understand the importance of filtration as well as regular maintenance.
If businesses have any questions regarding the true cost of downtime, Tidyco' has access to a state-of-the-art downtime cost calculator. The findings may shock you into truly understanding the value of preventative planned maintenance (PPM) procedures.
Effective servicing will remove impurities in order to make equipment and machinery far more efficient whilst reducing the risk of complete failure.
The human eye cannot see anything smaller than 40 microns, and most hydraulic fluid contaminants are 25 or less. Therefore, if the fluid looks dirty to the human eye; I would suggest requesting a maintenance call-out as a matter of urgency.
Solutions-based
Tidyco is very much a solutions-based business whereby preventative planned maintenance is offered throughout all divisions. Interestingly, PPM is just as important in HVAC as it is pneumatics and hydraulics.
PPM has very much become a business-critical consideration for facilities managers and on-site managers alike. Tidyco advises senior decision makers to ensure PPM forms part of overall corporate strategies.
Hydraulic filtration is a crucial element regarding overall Tidyco service provisions. We offer an asset management system that helps to automate scheduled servicing whilst documenting every piece of equipment within a commercial property. Additional to asset management is a sophisticated frequency generator that regulates when to take fluid samples.
When considering planned maintenance for hydraulics equipment, simultaneously thinking about HVAC servicing would be incredibly wise.
Always innovating and developing new products, 2017 witnessed Tidyco introducing a mobile filtration unit to market, capable of transferring 49 LPM.
Image - from left to right; Scott Shipley, David McLean and Declan Dykes of the Tidyco Hydraulics Division.
---