Emerson demonstrates fluid control knowhow in clinical diagnostics applications
04 January, 2019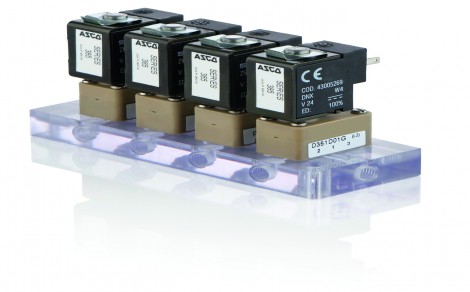 Emerson demonstrated its wide breadth of products available for clinical diagnostic fluid control applications and other fluid-handling components and assemblies when it attended the COMPAMED trade fair for suppliers and manufacturers of medical technologies on the 12 to 15 November.
Emerson´ engineering knowhow and market knowledge in clinical diagnostics, means the company has the ability to create customised fluid-handling systems that meet the rigorous demands of today´s market.
Emerson's systematic approach to providing sample/prototype products and customisations quickly, through its Rapid Engineered Solutions program, enables the company to simplify the fluidic path design, which can dramatically reduce manufacturing and operating costs and speed up a customer´s time-to-market.
Emerson comments that its engineers also understand that detection reagents are costly, which is why the company engineers its miniature isolation, pinch, proportional and general service valves to have close to zero internal dead volume. This helps to boost the efficiency of in-vitro clinical diagnostic instruments.
Emerson's fluidic designs feature power-saving circuits to reduce unnecessary power drains for customers' point-of-care devices and improve total cost of ownership. This can enable manufacturers to manage their power budget more efficiently.
www.emerson.com/en-gb/automation-solutions.
---