Transatlantic golfing challenge
01 November, 2018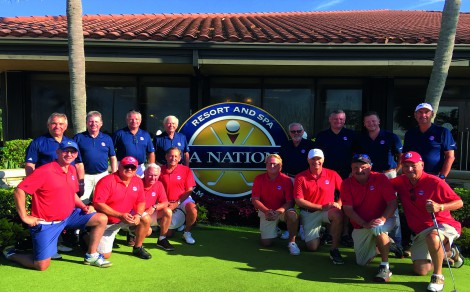 The 16th Meeting of the Transatlantic Fluid Power Golfing Society was held at Palm Beach Gardens, Florida USA last month. Held at the PGA National Resort and Spa between 18 and 22 September, the tournament comprised five golf courses, each with its own individual characteristics and challenges.
The seeds of the TFPGS were first planted back in 1989 when 10 fluid power professionals and their spouses from Europe and the US gathered together for a friendly industry golfing competition in Turnberry, Scotland. The success of that inaugural event has been validated almost 30 years later as eight members of Team USA and eight members of Team UK competed in the quest for the Donoughe Ross Cup. This year saw Team USA raise the cup in victory.
Camaraderie
Although every two years each team aspires to return home with the cup, time-tested reality has shown that regardless of the outcome this bi-annual event is, and always has been, primarily about camaraderie, good sportsmanship and most importantly about the chance to renew old friendships as well as the opportunity to nurture new ones.
"Ryan Fuller, director at DFA Media – publisher of the UK's Hydraulics & Pneumatics journal said: "This was the perfect event to network with many of our US counterparts within the fluid power industry. As for the golf itself, the games were again extremely good-spirited and, as a welcome bonus, the weather was glorious throughout the tournament."
Bill Tulloch, captain of Team USA, added: "Our special thanks go to captain Phil Keep of Team UK for his coordination and communication efforts in helping to bring this competition together on the other side of the Atlantic. We look forward to what Phil has planned for us in 2020 on UK soil."
Phil Keep, Team UK's captain, commented: "Congratulations to Bill Tulloch and the US Team on their well-deserved victory. There was some consolation on our part in the knowledge that our reserve team emerged victorious from their tournament in Paris. Team UK now looks forward to playing our US friends on home turf in 2020, where we hope to even the score."
The trophy – a little history
The original TFPGS Trophy was donated by Malcolm Kelly. As evidenced in a 1989 team photo from Turnberry, Walter Donoughe – then president of the Schroeder Filter Company in Pittsburgh, Pennsylvania – proudly holds a single cup. It is etched with the TFPGS original logo and a simple inscription 'Transatlantic Fluid Power Golfing Society team winners sponsored by Integrated Hydraulics Ltd.'.
Sometime later, with the passing of Walter the reverse side of the cup was inscribed with 'The Donoughe Cup'. Not too many years later, Donald Ross of Micron Eagle Hydraulics in Aberdeen, Scotland also passed away. The cup was once again altered to add the words 'The Ross Cup'. Today it is often referred to simply as 'The Donoughe Ross Cup'.
---