Comau and Argotec present ATENA: Robotic system for nanosatellite testing
25 October, 2018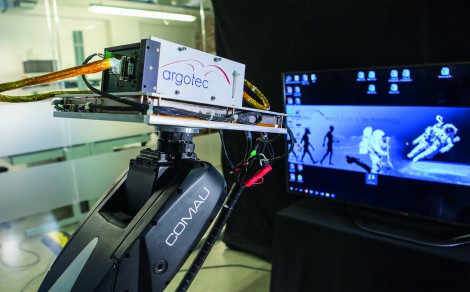 Argotec, the Italian aerospace engineering company, and Comau, the provider of advanced industrial automation products and systems, have introduced ATENA, a system aimed at testing and validating the functionality of nanosatellites.
ATENA (Advanced Testing Emulator for Nanosatellite Arm) simplifies simulations of satellite performance, generally carried out through complex numerical analysis and tests of hardware, software, navigation and control algorithms, which usually return results difficult to interpret.
The system, born from the intuition of Argotec (which has also registered a patent) and the collaboration with Comau, consists of a satellite or part of it, an electronic control unit and a Comau robot. The nanosatellite, or part of it, is fastened to the wrist of the robot which, thanks to a closed loop configuration, recreates the movement of the satellite in orbit, during the different phases of a mission.
This solution allows to test all the communication protocols of the system, also verifying the interaction between all the components. The robot chosen is the Racer7 1.4, claimed to be the fastest in its class, which offers reliability and precision in a compact mechanism. This new approach is said to be so realistic and versatile that it can be used from the early design stages of a satellite.
ATENA represents a real breakthrough in the aerospace sector. Using the robot, it is possible to monitor the satellite's functionality and observe its behaviour directly. This is claimed to result in a more immediate and simple visualisation of the test results, as well as offer the possibility to carry out flight demos. Moreover, two or more robots can faithfully reproduce in-orbit satellite docking.
Immediate return
David Avino, managing director of Argotec, said: "Argotec is constantly looking for reliable technological solutions which can improve the quality of space systems and also allow possible Earth-related effects. In fact, according to our company vision, everything that is designed for space activities can have an immediate return on Earth, resulting in benefits in our daily life and meeting needs which haven't been met yet.
"The ATENA project, for which a patent application has been filed, represents our dynamic vision, our desire to innovate and, above all, the ability to collaborate with a multinational companies like Comau, pursuing a common goal: obtaining outstanding results of international relevance by exporting the excellence of Made-in-Italy technology in the world."
Precision and reliability
Massimo Calvetto, sales manager GI Italy of Comau, added: "We are proud to have contributed to the implementation of the innovative project developed by Argotec, in an extremely technological sector such as aerospace, where precision and reliability are essential components. Our robots have proved to be the right choice to guarantee the achievement of excellent results.
"Comau is renewed as a leader in the automotive sector, but the company has always been ready to open up and extend its areas of application to all the other sectors as well: our advanced skills, the levels of technological excellence we achieved and our flexible, modular and high-performance solutions are now also available to the SMEs operating in the general industry."
---