Schwer Fittings UK – A continuing home-grown success story
31 August, 2018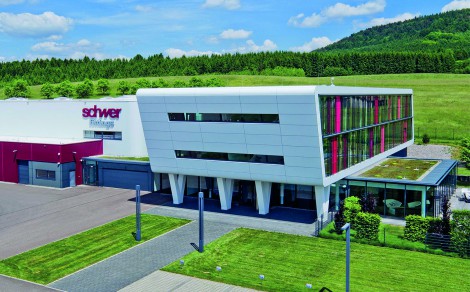 Following the recent retirement of Schwer Fittings UK managing director, Wolfgang Moellers, Hydraulics & Pneumatics reflects on the company's growth and development since it was first founded as a subsidiary of the German parent company in 1994 and looks at how new MD Jane Cooper plans to take things to the next level.
For nearly a quarter of a century, Schwer Fittings UK, based in Warrington in Cheshire, has continued to develop and innovate as a leading provider of stainless steel connection technology, offering a wide range of fittings including single and twin ferrule compression fittings, hose-end fittings, including interlock, (BSP, NPT, metric, & JIC), hydraulic adapters (BSP, NPT metric & JIC), screwed fittings and valves.
The company's products are in demand among a wide range of industry sectors; from oil & gas and offshore to construction and civil engineering. Wolfgang Moellers, Schwer Fittings UK's managing director since 1997, has been largely instrumental in the company's growth, development and solid reputation within the fluid power and related equipment industry. Moellers made the decision to step down as MD at the end of 2017 due to ill health, although he plans to stay in close touch with the company and to serve in a consultancy capacity going forward.
With over two decades at the helm, Moellers looked back at the early years following the company's formation and highlighted some of its milestones in terms of investment and growth. "Schwer Fittings UK was first founded as a subsidiary of the German parent company in 1994 and was initially tasked with manufacturing cutting rings for couplings. At that time, I was working as export officer for Schwer Fittings in Germany and was given the opportunity to visit the UK subsidiary from October 1996 to January 1997 in order to survey how it was progressing from a production and business standpoint, and to make suggestions as to how things could be improved. After a couple of additional visits during 1997 I grew increasingly attached to both the UK arm of the company and to the English way of life. After discussing my interest in Schwer Fittings UK with Bernd Schwer, founder and CEO of Schwer Fittings GmbH, he offered me the position of managing director. Who would have known at the time that my initial three-month stay would develop into 21 years of service?!"
Ideal career opportunity
Moellers explained that this was an ideal career opportunity, with the German parent company giving him a largely free rein to develop the Schwer Fittings UK into a leading provider of high-quality standard and custom products. "I realised early on that the market in the UK was quite different to that in Germany," he said. "In Germany, our core customer based comprises end users, whereas in the UK it has been largely made up of dealerships and installation companies. This led us to develop a range of adapters, BSP fittings and a complete range of hydraulic hose fittings to best fit the requirements of this type of customer base. In fact, the hose fittings, which we first began manufacturing in 2005, gave us another boost business-wise. Over the years this product has developed into a very wide portfolio."
---
AIR-TECH EXHIBITION


16 April, 2024, 9:30 - 18 April, 2024, 4:00




Hall 9, the NEC, Birmingham, UK

FLUID POWER & SYSTEMS EXHIBITION


16 April, 2024, 9:30 - 18 April, 2024, 4:00




Hall 9, the NEC, Birmingham, UK