Pegasus Hydraulics relocates to larger premises
13 September, 2017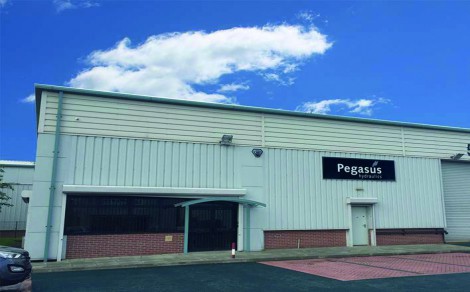 Pegasus Hydraulics has relocated to new, larger premises on the Knowsley Industrial Park in Liverpool. The new 400 sq m site is considerably larger than the company's previous location, which was situated approximately a 20-minute drive away in Ormskirk, West Lancashire.
Pegasus Hydraulics' managing director, Paul Prescott, explained that the main reason for the move was to provide the company with the capacity to expand its offering in terms of stock holding, diversity of product and increased staff members as demand for its products grows. He added that the new location is situated in a more industrial area, which can attract a higher level of skilled employment.
All of Pegasus Hydraulics' previous employees have relocated with the company to the new site. Since the relocation, Pegasus Hydraulics has already put in action its staff expansion plan by recruiting Alan Ryan as a new member of the warehouse team, and Dave Nowell (an experienced machinery sales professional) within the Sales department.
Extensive product range
Pegasus Hydraulics stocks and supplies all the parts necessary to create stainless steel hydraulic and process systems. The company's product range includes high pressure stainless steel hydraulic fittings and tube; including compression fittings, hydraulic hose inserts (standard and interlock), BSP adapters to BS 5200, pipe clamps, SAE flanges, JIC fittings, socket weld fittings and valves.
Pegasus Hydraulics mainly supplies customers in the offshore and marine industries, but also supplies stainless steel fittings to the lower pressure process industry; including nominal bore pipe, butt weld fittings, screwed fittings and flanges.
"Pegasus Hydraulics had relied on two units in Lancashire for 12 years," explained Prescott. "We started out with a single unit, then six years ago we also acquired the neighbouring unit. However, we soon outgrew the space available, and so began looking for a site and location that was more in line with our current requirements and future plans to better serve our customers. We found our current Knowsley Industrial Park site in September last year and immediately began developing it by creating new offices and giving the site a clean, fresh and modern appearance. When the bulk of the refurbishment work was completed recently, we then fully relocated the business. Pegasus Hydraulics is here for the long-term and I am very pleased with the new site and what it can offer us going forward as a business. The key part of our strategy is to continue to grow and diversify our already extensive product range."
Pegasus Hydraulics currently supplies its product portfolio to contractors and OEMs throughout the UK and Ireland. The company's new address is: Unit 5 Arbour Place, Arbour Lane, Knowsley Industrial Park, Liverpool L33 7XG
---
AIR-TECH EXHIBITION


16 April, 2024, 9:30 - 18 April, 2024, 4:00




Hall 9, the NEC, Birmingham, UK

FLUID POWER & SYSTEMS EXHIBITION


16 April, 2024, 9:30 - 18 April, 2024, 4:00




Hall 9, the NEC, Birmingham, UK