High flow and low pressure drop maximises output
28 August, 2018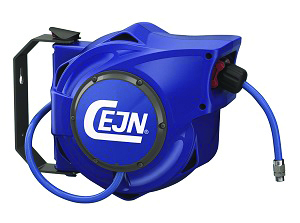 Fluid power specialist Tom Parker Ltd has introduced a new range of CEJN safety hose reels for compressed air, water, and electricity, in its new 2018-2019 catalogue. In today's productivity driven environment, Tom Parker Ltd's emphasis on quality, safety and performance make the CEJN brand the ideal choice for safety reels. With the company's additional products: hoses, couplings and blowguns, it is claimed to be the most optimised system on the market.
From a safety perspective, the team at CEJN evaluated different reels on the market, looking into injuries suffered by people and harm to the environment. Four areas were highlighted: hose retraction, hose replacement, stop-balls and locking features. The most dangerous aspect of a hose reel is the spring force during rewinding. CEJN's new safety reel is equipped with a sturdy centrifugal brake in the drum, combined with a strong spring force, giving a slow and steady retraction, which is both safe for the people and objects nearby in the workplace.
Encapsulated spring cassette
Also highlighted were the risks and difficulties of changing a hose. When a casing is opened, severe injury to the user can be caused by the strong embedded tension of the metal spiral within. To combat this, CEJN safety reels feature an encapsulated spring cassette to protect the user if the reel needs to be dismantled. CEJN's new design no longer requires a user to dismantle the reel to change a hose; meaning the task takes under a minute and is completely safe.
During the product development stage of the safety reel, the CEJN design team had one main ambition: to create a reel where flow limitations and pressure drop were virtually eliminated. Consequently, the company claims to offer a solution that is almost twice as effective as the standard reel when it comes to performance. CEJN's focus on performance aims to create solutions that help customers save money. In addition to perfecting performance in its product design, fittings and transition are optimised to eliminate pressure drop, leakage and system loss, to help maximise tool efficiency. As the hose can be easily changed if damaged, the reel can last much longer than most other reels on the market. By investing in a CEJN safety reel, a product is purchased that will last for years to come.
Durability
CEJN's reels adapted for industrial use take advantage of premium materials chosen to withstand outdoor use, UV radiation, chemicals and resistance to wear. To maximise durability, all materials have been tested for high and low friction, to find the combination that provides the longest life span.
Tom Parker Ltd offers CEJN safety reels that provide a high flow and low pressure drop to maximise output. The patented closed safety reels are developed and manufactured in Sweden. All designed with CEJN's core company values: safety, performance, quality, innovation and protecting the environment. CEJN: the future of high performance hose reels, available from Tom Parker Ltd.
---