Camozzi Automation – Taking training to new heights
14 August, 2018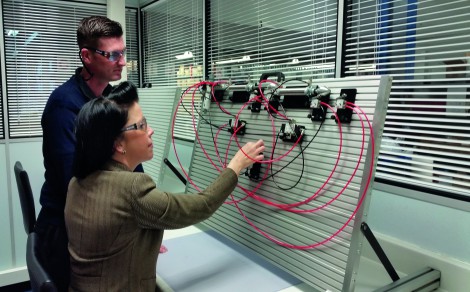 Camozzi Automation is equipped to offer training at many different levels and its courses are regarded as some of the best in the business; aptly demonstrated by the fact that they are frequently oversubscribed.
In 2015 the company invested in excess of £10,000 in a new, fully interactive training suite at its Nuneaton, Fluid Power Centre UK headquarters, providing a purpose-built environment for trainees to gain an introduction to the basics of pneumatics or for those with advanced knowledge to tackle more complex modules. To date, more than 200 trainees have used this state-of-the-art facility.
Bespoke packages
In addition to scheduled training courses, Camozzi can also offer bespoke packages tailored to meet companies' individual needs. Mindful of the fact that it is often impractical to take key personal off site to attend courses, Camozzi can in some circumstances also bring their training to the customer's own premises.
A recent example of this saw Camozzi taking its popular Level 1 Pneumatics training course on the road when it was asked to deliver the course to 20 staff at a leading preserves manufacturer based in the east of England. With most of the company's brewing, filling and capping equipment reliant on pneumatics, the company was keen to improve the knowledge of its operatives and give them the skills needed to perform routine maintenance activity.
The training was carried out over four days, with ten staff attending each of the two-day sessions, so that the company's manufacturing schedule could continue unaffected.
Whilst the vast majority of customers still choose to send staff to Camozzi's Nuneaton-based training centre, offsite training offers a great alternative for organisations wanting to train larger groups in situ and minimise impact on their manufacturing output.
---